Boardroom Reservations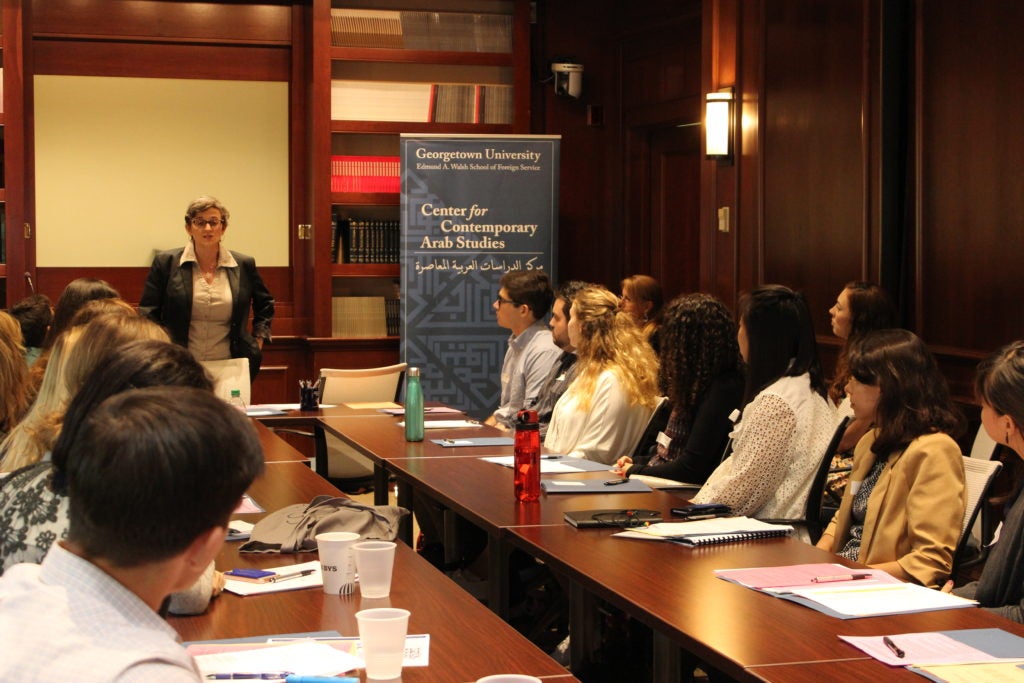 The CCAS boardroom is currently not accepting reservations in the space from groups outside of the School of Foreign Service, the History Department, or Arabic and Islamic Studies. For COVID safety, the capacity of the space is limited to 20 people when food and/or drinks are served and 35 without food or drinks served. All reservations must complete clean up and leave the CCAS suite by 5:00 pm. We are not accepting reservations more than 30 days in advance due to pending technology renovations. The room cannot be rearranged from the standard boardroom set-up at this time.
Technology in the space is limited to the following: A desktop computer connected to the projector, one moveable webcam, microphones situated along the table for Zoom meetings. The room is NOT currently equipped with handheld microphones nor an ability to connect a laptop the sound/projection system. 
Request to book the boardroom.
The CCAS Boardroom is a medium-sized space located in the Edward Bunn Intercultural Center (ICC) available for conferences, meetings, and events hosted by internal Georgetown University clients. The CCAS reserves the rights to deny departments use of the Boardroom if they do not adhere to the rules listed below.
The Space
[Prior to the pandemic] Maximum seated capacity inside the conference room is approximately 55 people, maximum standing room (including the foyer) is approximately 100 people. Please see furniture guidelines for capacity in various room configurations.
Inventory includes: 55 chairs, 10 tables, 2 catering tables in the foyer, 2 wireless microphones, 1 lav microphone, 1 podium, 1 computer, and a projector.
The CCAS will also provide two 6-foot rectangular tables for serving food/drinks. You are responsible for bringing a tablecloth to cover the tables.
There is a kitchen available for caterers to use.
The foyer may be used for receptions (after 4pm) or event overflow and is reserved in conjunction with the conference room.
The Boardroom is equipped with a screen, projector, two wireless microphones, a clicker, web conferencing equipment compatible with Zoom, and an easel. For more info see the A/V guidelines below.
Guidelines
Reservation holders are responsible for knowing and helping their guests follow these guidelines.
Sponsors are responsible for arranging and supervising all event details, including room configuration, catering, guest check-in, CCAS A/V equipment, photographer, trash removal, and clean-up.
Guests are permitted in the Boardroom and foyer ONLY; the second floor and kitchen are off limits to guests.
The CCAS does not provide you or your guests with a phone, fax, photocopier, printer, computers, admin support or any other services beyond the actual use of the space. Please come prepared and inform attendees of your event of this policy to avoid confusion and interruptions. You are responsible for your guests.
Furniture
Potential room configurations:
Hollow Square / Rectangle: Standard set-up
Boardroom: conference tables set in the shape of the letter U, with chairs around the outside
Classroom Style: rows of tables with chairs
Lecture / Panel: rows of chairs with a table in the front of the room
Reception: The CCAS foyer is available for professional receptions upon request.
Capacity is approximately 70 people. Social receptions are not permitted. Serving tables in the foyer may NOT be rearranged from their original configuration. Do NOT move the podium or make any adjustments to the console. After the event, furniture should be returned to a hollow square/ rectangle setup with 6 tables facing each other down the center and 2 tables on either end, and 26 chairs pushed in neatly to the halfway point. Remaining chairs should be placed around the perimeter with a few stacks at the rear of the room.
Note: Only the chairs with four legs can be folded and stacked–not the swivel chairs.
Catering
Cleaning supplies can be found in the kitchen cabinet to the left of the dishwasher.
The kitchen has a refrigerator, freezer, small sink, warming drawer and space available for caterers. The use of the coffee machines in the kitchen is strictly prohibited.
You, or your caterer, are responsible for cleaning up catering. Leftovers may be left in the refrigerator with the appropriate label (labels are hanging on the refrigerator door). Do not leave food unwrapped on the table, countertops, or refrigerator in the kitchen.
Catered events need to arrange garbage pick-up with housekeeping (7-7210). Failure to do so will result in an additional service charge.
Please make an announcement during your events directing your guests to utilize the recycling bins in the space for water bottles & soda cans.
A/V Support
If using the Boardroom's A/V equipment, you are responsible for scheduling a training in advance with a CCAS staff member. Please mark your A/V needs on the room request form. CCAS staff will not be available to provide tech support during your event.
There are two wireless microphones that can be used in addition to the podium microphone. We do not provide microphone stands for the wireless microphones, but those can be checked out from Gelardin.
For power point presentations, please bring a flash drive to plug into the podium computer. The Boardroom computer is wiped after each event, so please save everything to an external drive.
For web conferencing via Zoom, you can rent equipment from Gelardin or CETS.
You are responsible for turning off all equipment, including the clicker, microphones, lights, and projector.

Reservations
All requests will be reviewed Mondays, Wednesdays, and Fridays, and you will be notified within 2 business days if your reservation has been approved or denied. Reservations will only be held if the reservation form is received.
The time requested must encompass setup and clean-up time. You may need additional time if you wish to rearrange the space; please plan accordingly.
We do not allow events to be booked less than an hour apart.
Reservations will not be accepted more than 60 days in advance.
The CCAS is open for events from 9:00 AM- 5:00 PM and is closed on weekends.
Priority for room reservation requests will be given to our partner departments: Arabic & Islamic Studies, African Studies, and the Alwaleed Bin Talal Center for Christian Muslim Understanding (ACMCU).
As there is great demand for our facilities, we advise you do not advertise your event until your request has been confirmed.
Fees
A $50 fee will be assessed for failure to cancel your reservation one week in advance.
A $50 fee will be assessed for improperly setting the room back to standard.
A $100 fee will be assessed for failure to clean up the boardroom or to follow opening & closing procedures (i.e. remove trash, clean table, dispose of leftovers, table stains/damage, or leaving chairs/equipment in disarray).
A $150 fee will be assessed for inappropriate use of facilities (e.g. use of coffee machine, guests on 2nd floor, use of CCAS printing, etc.).
A $250 fee will be assessed for damage to the room, floor, tables, chairs, or carpet as well as the cost of clean-up, repair, or replacement.Any exceptions to the guidelines listed above are at the discretion of the CCAS. If you have any questions, please email CCAS Event and Program Manager, Coco Tait at ct885@georgetown.edu.