CCAS has been fortunate this year to work with over a dozen external partners to expand the reach and diversity of our public programming. Over the past academic year, the Center held over twenty-five hybrid and virtual events that reached thousands of live attendees. Highlights of the spring events programming included three major conferences and a multi-part series on Palestine, which are detailed below and here.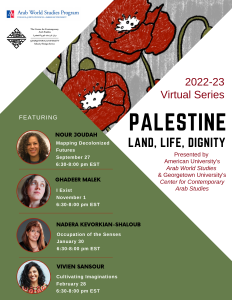 Palestine: Land, Life, Dignity
Over the spring semester, CCAS collaborated with American University's Arab World Studies to feature four prominent Palestinian scholars and activists in a multi-part series exploring questions relating to land, life, and dignity within anti-colonial struggles. Their work brings to the forefront the living textures of colonial existence and highlights the centrality of innovation and collaborative visions in working against colonial erasures and in helping to forge emancipatory futures. Dr. Nour Joudah provided a glimpse of how mapping initiatives for Palestine and Hawai'i defy settler temporalities and work to actively build emancipatory futures. Ghadeer Malek performed poetry and discussed her seminal compilation (with co-author Ghaida Moussa), Min Fami: Arab feminist reflections on space, identity, and resistance. Nadera Shalhoub-Kevorkian's event focused on the power of the story, and of indigenous feminist voices that articulate presence, steadfastness, and wounds. Shalhoub-Kevorkian emphasized that these voices mark existence, despite colonial attempts of erasure. Vivien Sansour shared images and processes of development for two of her most recent art works, "The Belly is a Garden", and "Something Else is Possible."
Towards Sustainable Peace and Democracy in Yemen
Towards Sustainable Peace and Democracy in Yemen was held on January 9th, in partnership with the DC think tank Democracy for the Arab World Now (DAWN) and the Tawakkol Karman Foundation. It brought together leading Yemeni figures, subject matter experts, and Biden Administration policy makers to discuss how best to reach a permanent ceasefire and build a lasting peace. The conference highlighted how the U.S. and the international community can play an important role by uplifting Yemeni voices, addressing major humanitarian crises, and supporting the regional economy. For this conference, CCAS served as a resource and hub for knowledge production by providing the logistical management and incoming CCAS Director Dr. Fida Adely delivering opening remarks.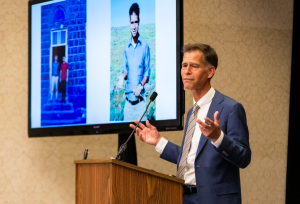 The Druze in their Adopted Lands
On April 14-15th CCAS, in partnership with the American Druze Foundation (ADF) and the Department of History and Archaeology at the American University of Beirut, hosted The Druze in their Adopted Lands. The conference, which brought together panels of leading researchers from across the United States, Europe, and the Middle East, explored the social and cultural evolution of the Druze, and the political roles of Druze communities, both in their countries of origin as well as in the diaspora. Among the speakers and moderators were current and former CCAS American Druze Foundation Fellows, including Dr. Benan Grams, Dr. Graham Pitts, and Dr. Lindsey Pullum.  
---
Coco Tait is the CCAS Events and Program Manager.
This article was originally published in the Spring/Summer 2023 CCAS Newsmagazine.