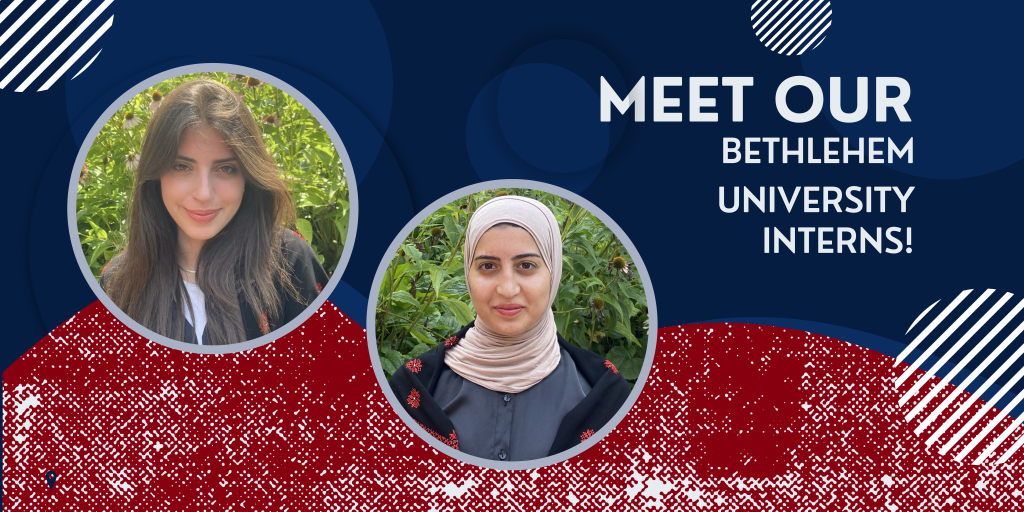 CCAS is proud to have a longstanding partnership with Student Ambassadors Program at Bethlehem University in the West Bank to bring undergraduate student interns to Georgetown's campus to work with CCAS faculty and staff. This summer, CCAS is privileged to host Bethlehem students Suhair Mohammad Ali and Leen Altamimi.
By way of introduction, they have each interviewed and written profiles about one another, which you can read below.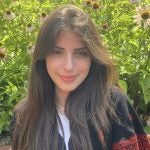 Leen Altamimi
Hometown: Hebron
Leen Altamimi is from Hebron, Palestine. She is a rising senior at Bethlehem University in Palestine, pursuing a major in English Literature and Business Administration. She finds enchantment in analyzing literature's hidden wonders and applies her insights creatively in the business world.
Beyond her studies, Leen has a strong wanderlust and dreams of exploring different cultures and societies. She aspires to pursue a master's degree in the future and seeks personal and professional growth.
Her summer internship program at Georgetown is a notable highlight of her academic journey. The unique atmosphere draws her in, igniting her desire for adventure and cultural understanding. As she explores new places and forms connections with diverse individuals, her thirst for knowledge and appreciation of different cultures deepens.
When not studying or exploring, Leen enjoys meeting new people, discovering new places and cultures, and indulging in her love for music and singing. She cherishes Middle Eastern culture, especially its cuisine and strong sense of community and family values.
With a determination to make a mark on the world through her academic pursuits, passion for exploration, and appreciation for diverse cultures, Leen embraces life's endless possibilities with wonder and curiosity in her heart.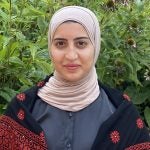 Suhair Mohammad Ali
Hometown: Jerusalem
Suhair Mohammad Ali is from Jerusalem, Palestine. Suhair is a rising senior at Bethlehem University pursuing a degree in English Language and Literature with a focus on translation.
Her passion for languages has driven her to work tirelessly towards becoming a registered translator proficient in Arabic, English, Spanish, French, and Hebrew. However, Suhair's aspirations go beyond translation.
Eager to expand her horizons and hone her research skills, Suhair is greatly motivated by the outcomes promised by the internship program she's participating in. The opportunity to work with other scholars and interns, along with the chance to explore the diverse environment of Washington, D.C, and the US as a whole, is fueling her enthusiasm to excel in the program.
Suhair is finding Georgetown University as a breath-taking place standing out as a remarkable blend of vintage and modernity. The sophisticated atmosphere, combined with the warmth and kindness of the people, keeps leaving a lasting impression on her. She enjoys leisurely walks in this charming neighborhood, finding inspiration in its beauty and ambiance.
Suhair has a profound passion for languages, music, novels and pottery work. She takes pride in her Eastern culture, appreciating its exceptional warmth and strong emphasis on family ties and values. In her quest to understand cultural perceptions, she hopes to delve deeper into the Western world's outlook on the Middle East and North Africa, tracing any evolutions that have occurred over time.
Suhair is on a trajectory to make significant contributions to the fields of language studies, women's status in the region, and cultural perceptions. As she continues to learn, grow, and engage in meaningful research, she remains an inspiring figure on her journey of self-discovery and academic excellence.