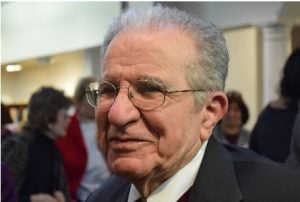 The CCAS community was deeply saddened to learn of the passing of Dr. Halim Barakat, a renowned Arab sociologist and novelist, and a professor at CCAS for 27 years.
Dr. Barakat, born to a Syrian family and raised in Beirut, received both his undergraduate and master's degrees from the American University of Beirut. His doctoral studies in social psychology brought him to the University of Michigan, where he earned his PhD in 1966. Over the next decade, Dr. Barakat taught at AUB, Harvard, and the University of Texas-Austin, before coming to the Center for Contemporary Arab Studies  in 1976. The Center had been founded at Georgetown only a year earlier, and Dr. Barakat became instrumental in shaping the identity, activities, and curriculum of CCAS during its formative years. In addition, Dr. Barakat pioneered numerous sociology courses addressing religion, politics, and Arab society, with a particular focus on contemporary challenges facing the region such as alienation, exile, and crises of civil society—themes that were prevalent throughout his academic work.
Dr. Barakat was a prolific scholar, publishing seventeen academic volumes, plus numerous essays and articles during his career. His path-breaking book, The Arab World: Society, Culture, and State, which was published by the University of California Press in 1993, is considered a classic in the field of Arab studies. Professor Emerita Judith Tucker, his CCAS colleague of two decades, called Barakat "a critical voice of conscience" whose work challenged simplified and reductionist tropes about Arab society prevalent in prior scholarship. "Halim's Arab society was one of high complexity," wrote Dr. Tucker, "a dynamic place of social struggle and change, a place where ideas and aspirations mattered, a place where the goal, in his own words of an 'overarching, unified, democratic, secular, and egalitarian Arab nation,' had never died and could still inform social action."
Beyond his influence as a social scientist, Dr. Barakat was also an award-winning novelist and short story writer whose creative works served as a bridge between the literary and academic communities. Two of his best-known novels were translated into English. Sitat Ayam (Six Days), published in 1961, has often been called "prophetically named for a real war yet to come in 1967" and served as a prelude for 'Awdat al-Ta'ir ila al-Bahr (Days of Dust) about the June War of 1967. His novels "brought home the human dimension, the aspirations and the losses, as they were experienced by Arabs in the maelstrom of late 20th century political upheavals," wrote Dr. Tucker, noting that in his writing, as elsewhere Dr. Barakat "never let go of the dream deferred of a better Arab nation."
The passing of Dr. Barakat is a tremendous loss to those who knew him, as well as to the larger academic community. CCAS extends our deepest condolences to the Barakat family. Dr. Barakat's obituary can be found here. We are adding tributes from friends, students, and colleagues of Dr. Barakat to this page. If you would like to submit condolences or remarks, you may do so here.
Tributes & Remembrances of Professor Barakat:
Judith Tucker, CCAS Professor Emerita
I had the great good fortune to be a colleague of Halim Barakat's for my first 20 years on the faculty at Georgetown, and I worked with him closely on the ongoing development of the Master of Arts in Arab Studies' curriculum. Halim guided and shaped the program of study of Arab society and culture for our students, and generations of MAAS graduates benefitted enormously from his unparalleled knowledge of the social and literary terrains of the modern Arab World. He took a clear-eyed and iconoclastic approach in his scholarship and teaching, combining incisive critiques of Arab society with his deep belief in the power of social struggles to bring about change. His students gained empathy for the people of the region and appreciation for the complexities and achievements of Arab society and modern Arabic literature.
Along with other prominent Arab intellectuals from CCAS at the time – including Hisham Sharabi, Hanna Batatu, Ibrahim Oweiss – Halim was well known in American academia and was also recognized and celebrated in the Arab World. His name was a passport: when I traveled in the region as a member of the CCAS faculty, the red carpet was rolled out for me as an associate  of Halim's.
Halim was a wonderful colleague. He was soft-spoken, gentle, and thoughtful, a favorite with the CCAS faculty, staff, and students. In twenty years, I never heard him raise his voice, and I never knew him to be petty or self-important – no small feats in the academic environment. Yet he always stood his ground on matters of principle and importance. He was a stalwart supporter and advocate for Palestinian rights even though taking these positions subjected him at times to vitriolic attack. He will be much missed and long remembered for his many contributions to CCAS and the study of the Arab World, and perhaps above all for the great kindness he showed to everyone, regardless of station, who crossed his path.
***
Kathleen Ridolfo
Dr. Barakat was one of the professors who made a major impact on my studies at Georgetown. I feel grateful to have had the opportunity to study under him. Beyond that, he was kind, generous and always willing to engage with students. May he rest in peace.
***
Brent Haddad
Thank you, Professor Barakat, for your dedication to the MAAS program. You enhanced our learning while demonstrating compassion yet holding us accountable.
***
Christine Lynn Trigg
Rest in Peace dear professor. You always were a strong influence in my life. I remembered your words and outlook as I made choices in my career. I am sure you helped many others as well. With thanks and gratitude, Christine.
***
Sausan Ghosheh
I remember and honor the late Professor Halim Barakat for his remarkable qualities as an educator. His gentle soul, humility, approachability, and talent for creating a supportive learning environment made him a beloved mentor to those privileged to be his students. His knowledge, unwavering dedication, and kind nature inspired us all. Professor Barakat's passion for his field instilled a love for learning within us, and his memory will always be cherished. Rest in peace, Professor Barakat, knowing that you have left a lasting impact on our lives long after we left Georgetown.
***
Neal Waaks
I have heard today of the passing of Professor Halim Barakat. I was saddened by the news, more than I would have expected on first thought, but on quiet reflection I realized that I had always seen Professor Barakat as an exceptional soul, and with this he had left an indelible mark on my memory. As a MAAS student in 1996 I sat in the first row of his Arab sociology class, to his left. The class was on the lower level of the Intercultural Center. His The Arab World text remains on my bookshelf, next to his Al Madeena Al Mullawana, while his Sitat Al Ayam lays on the table by my side, taken from the shelf upon the news of his passing. As a young man I felt at times that he was a man forgotten by time, with a vision whose moment had long since passed, never to be realized. In retrospect, though, his ambitions and dreams for the Arab world were more far more durable, and his understanding of the human condition was one of far greater patience than my own at the time. Since leaving Georgetown almost thirty years ago, I would often remember Professor Barakat, while looking for signs of what was to come in his Arab World. He will be missed.
***
David Chambers
Always cheerful and warm
***
Samer S. Judeh
I am very sad to hear about the passing of Professor Halim Barakat. I have fond memories of him during my time at Georgetown. On behalf of my family, I would like to express our deep condolences to his family. May his soul rest in eternal peace. رحمة الله عليه.
***
Adam Shapiro
I am deeply saddened by Professor Barakat's passing. I studied with Professor and quickly came to realize and appreciate his gentle soul, his compassion and kindness, but also sensed deep emotion and power. He always had a smile for students, and I only regret not having taken more time to learn from him and get to know him better. What he taught and exposed us to in his classes would reverberate with me for years and years after as I traveled and worked in the Arab world. My deeepest condolences to his family. Rest in power, Professor, and eternal gratitude from this student.
***
Dr. Fida Adely
I never had the pleasure of working with Dr. Barakat. However, as a faculty member in the CCAS community, and its new director, I benefit directly from his legacy. Dr. Barakat was instrumental in building CCAS and the MAAS program. He was a renowned scholar and writer, and as I have heard from many of our alum, a generous teacher. As we approach our 50th anniversary, all of us at CCAS are reminded of his contributions and remember him with gratitude and respect.
***
Steve Tamari
Halim (and Hayat) were surrogate parents to many of us who were younger and new to Georgetown. From the time I landed and periodically returned, Halim was always there to welcome me graciously. His academic stature never got the best of his humanity. Being at the Barakat house was like being home-away-from-home. In addition to his accomplishments as sociologist, teacher, novelist, and passionate advocate for the Arab masses, he was a consummate collector; the Barakat house was a veritable museum of Arab modernism. I miss him dearly.
***
Nadya Sbaiti
Prof. Halim Barakat is probably one of the kindest professors, and people, I have ever encountered – certainly one of the kindest I met in my time in MAAS. He opened up the Arab world to his students in ways that helped many of us who had grown up there make sense of our experiences. Together with his wife, Hayat, they welcomed us into their home, their life, always with affection and curiosity. He was part of a critical cohort and generation of scholars and thinkers who both reflected and shaped knowledge production in and about the region. Halim was a gem and will be remembered always.
***