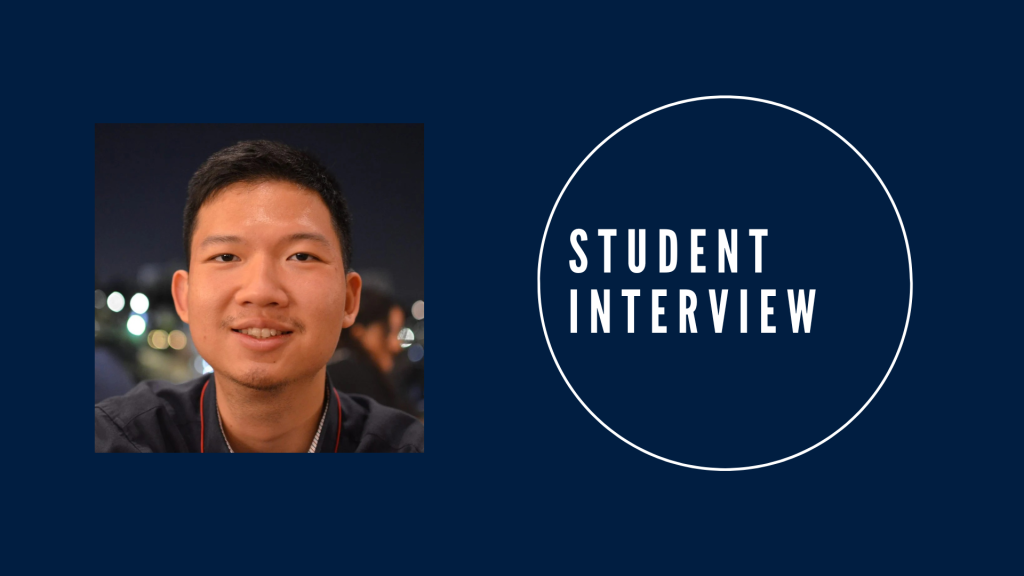 In this interview, Coco Tait speaks with Kannithi Traitonwong. Kannithi received the Royal Thai Government Scholarship for his undergraduate and graduate studies with a concentration on the Arabic language and the studies of the Middle East. He graduated from the University of Jordan (JU) in 2020 with a BA degree in Political Science. Prior to his undergraduate studies, Kannithi spent two years learning Arabic language at the University of Jordan Language Center and Qatar University. The experience he gained in the Arab World through his studies and work and the exposure to the lived realities of local people furthered Kannithi's interests to pursue a MA degree in Arab Studies at Georgetown University.
Please tell me about yourself. What are your professional interests and what has the evolution of your career looked like?
I received the Royal Thai Government Scholarship for Arabic language and studies of the Middle East in 2014. The Scholarship set my professional trajectory towards international service with the specialties of Thai-Arabic interpretation and area-specific knowledge. The stipulation of the Scholarship determined by the Ministry of Foreign Affairs of Thailand (MFA) is to pursue an undergraduate program that is relevant to the works of MFA and taught in Arabic at a Middle Eastern University. This is because the MFA realizes the importance of cultural understanding of the Arab world and its need for foreign service officers who have the area expertise and can serve as an interpreter. In order to balance the two aspects, the Scholarship therefore conditioned that I pursue a graduate program that concentrates on the Middle East before I can serve as a foreign service officer.
The condition of Arabic language and area expertise was very clear from the beginning that I will spend most of my education in the Arab world acquiring language skills and cultural understanding. The path started with spending two years learning Arabic at the University of Jordan (UJ) and Qatar University between 2014 and 2016 before enrolling in the undergraduate studies at UJ. My time in the region was an exciting and informative moment. This is because with my Arabic skills I was able to perceive the Arab world and the people from a different point of view which cannot be captured by looking from the outside in. This was thanks to the environment in which I was fortunate to immerse myself. At UJ, I came into contact with students from different parts of the Arab world through a common interest in the Arabic language. They introduced me not only to the language but also other aspects that encompass the lives of Jordanians and Arabs students in Jordan. This could be cultures, traditions, Islam, politics, and so on. I realized through my encounters that the realities on the ground posted a stark contrast to my poorly-informed mindset about the Arab people. Although my case is not unique, few people have such opportunities to challenge their own perception of what the realities of the Arab people look like. Arguably, living in the Arab world and speaking the language of the people can render totally different experiences than just being in the Arab world. 
For me, rather than academic attainment or professional training, it was the cultural encounter along these processes that evoked the sense of humanities, common understanding, and self-realization that has shaped my interests. My goal is bridging the gap between the Arab world and the rest through humanities and language. It is the engagement with local communities and accessing different voices and perspectives unhindered by language barriers. I want to bring my experience and understanding of the Arab world to a wider audience and the people with which I came into contact through the international service that I am pursuing.
Can you discuss some of the issues that you are most passionate about now? How are you able to balance them as you pursue your degree?
My identity as a gay, Asian, and foreign man living in Jordan and Qatar uniquely shaped my experience in the region. I became interested in queer and identity politics. Because of my identity, I gained a certain access to the local queer communities. I observed not only how queer people navigate everyday challenges and insecurities but also their resilience and perseverance in negotiating with identity politics. This, of course, does not confine my interests to only queer identities. Through my cultural encounters, I became interested in the issues of women and gender, people with disabilities vis-à-vis access to education, and the experiences of foreign students attending local universities. 
At Georgetown, I was able to balance my interests while pursuing my Arab Studies degree thanks to the variety of classes. I enrolled in two classes that specifically dealt with gender politics and women issues: Sex and Power in the Islamic Tradition and Arab Feminism through Literature. Furthermore, gender aspects are integrated within other classes that I took. As for the Arabic language, I enrolled in classes that are taught in Arabic or with Arabic content. Some of them are Political Memoirs, Prison Literature, Arab Politics through Literature, and Arab Feminism through Literature. Besides the classes at Georgetown, I also applied for the summer language study grant to study at the Sijal Institute in Jordan. This way, I was able to maintain my Arabic skills while applying my experiences in the region in various topics of studies. 
Before CCAS, you worked as a diplomat for the North Africa desk at the Department of South Asian, Middle East and African Affairs at the Ministry of Foreign Affairs of Thailand, an office you will return to after you graduate. In what ways will you be able to apply your education as you return to the Ministry? What made you decide on MAAS? 
MAAS has equipped me with different frameworks in understanding international relations in the Middle Eastern context. The frameworks I learned from the International Relations in the Middle East class can be applied to Thai-Arab relations for conflict resolutions, negotiations, and cooperation. As an interpreter, language and words are crucial and powerful in fostering cooperation and mutual understanding. Therefore, building solidarity with the Arab and Muslim nations is one of the foreign policies which I want to promote during my international service. On the people-to-people level, Thailand has thousands of workers in the Middle East, especially in the Gulf. I find the Critical, Human, and Environmental Security class, which looks into everyday human (in)securities, beneficial in understanding the precarious conditions of Thai migrant workers and formulating policies that can reduce their insecurities and protect their rights. Furthermore, the Development in Arab World class provides me with an analytical critique on the on-going development cooperation between Thailand and Arab governments and the prospect of formulating new policies that can make a wider impact in the region.
I chose MAAS primarily because of the program's attention to Arabic proficiency and academic rigors. The program gave me area-specific knowledge while equipping me with academic and analytical frameworks. Furthermore, I appreciate the wide range of classes and the flexibility of taking classes outside the program. 
What are your aspirations post-graduation? Is there anything you want to say to your future self?
After graduation, I will resume my international career at MFA. I am very excited to apply my Arabic skills and knowledge from MAAS for the service of Thai-Arab relations. My time at Georgetown has been formative, but it was my family, friends and loved ones who gave me support. I want to say to my future self that you need to surround yourself with people whom you love and find your new family wherever you are. Your career will be long, and you will be put up with all kinds of changes. Learn to lean on others and be their support, because they will be yours. When it is time to say goodbye, tell yourself that friendship and love transcend across space and time and that you will meet each other again.
Coco Tait is the CCAS Events and Program Manager.