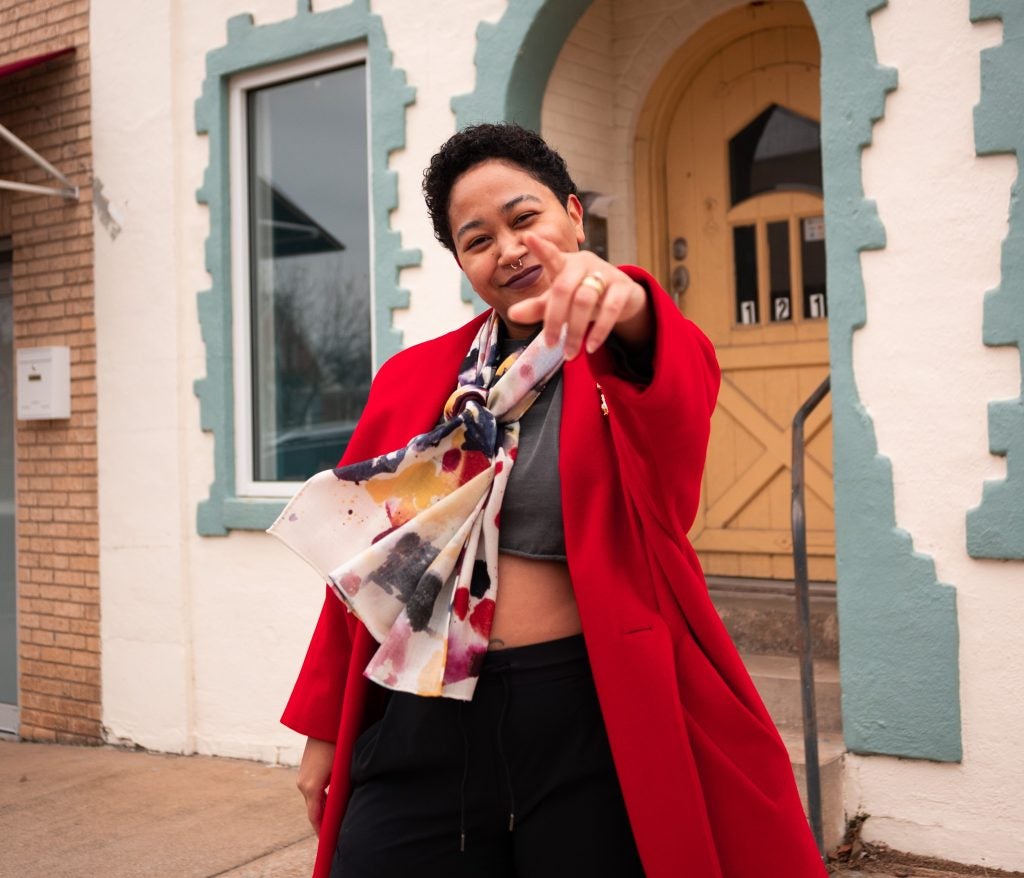 On Food, Writing, and Becoming a Successful Entrepreneur
Interview with Vicki Valosik
Anela Malik is a content creator with a focus on food, travel, and "the everyday mundane." After graduating from MAAS in 2016, Anela became a Consular Officer in the U.S. Embassy in Amman, Jordan. While in Jordan, she started a food and travel website called "Feed the Malik" as a way to push herself to explore beyond the "expatriate bubble." She found, to her surprise, that friends who had never considered traveling to the Middle East were inspired to do so after reading her blog. "I learned a valuable lesson," writes Malik. "Complex, deeply human stories can challenge and truly move people." In 2021, she decided to leave the diplomatic corps in order to focus on her growing platform. Malik now has more than 100 thousand followers on TikTok, nearly 40 thousand on Instagram, and a thriving community of subscribers. She uses these platforms to elevate marginalized communities, particularly Black-owned restaurants, to discuss the politics and culture of food, and to demystify the process of becoming an influencer and entrepreneur. Malik is currently writing a book about the enduring contributions of Black peoples to American cuisine, which is under contract with National Geographic.
Where does your passion for storytelling through food come from?
It's cliche to say "food is a universal language" though in some ways very true. Maybe it's better to frame various cuisines and food cultures as dialects of the same language. We all may understand them slightly differently but we are at least aware of the various meanings and conversations that can be had through food. That's why so much of my work encompasses food, as it's at once deeply personal and also communal.
Tell us more about Feed the Malik.
Feed The Malik is my exploration of nuance, imperfection, and wonder through primarily food and travel. This year my focus is primarily on building out my subscription as my primary source of income and also an avenue for creative expression and community building. I've worked to make that space as accessible as possible, both financially for members (memberships start at $2 per month) and by ensuring videos are captioned, I include image descriptions and alt text, and other basic ways that you can make digital spaces more accessible. It's an evolving process but one I'm committed to over time.
That community is vital to the whole ecosystem of my work. During 2020 – 2021 my work drove an estimated $500,000 in sales to independent Black-owned food businesses. That's a low estimate based on only one channel of activity. I created free resources used by hundreds of thousands of people to find and engage with independent businesses in their communities. In 2022, a series I put together about Black history & excellence in Arkansas reached over a million people. Recent projects have sparked conversations on power, equity, elitism, and beyond have reached multiple millions of people. That's just a small snapshot of my work in the creative space. All of that is/was community funded, by subscriptions that allow me the freedom to pursue those projects. I'd say those impacts, especially on small businesses, are my biggest accomplishments.
How did your book project come about?
National Geographic approached me because of my platform, after deciding the voice I had nurtured on my blog and social media would lend itself well to a historical narrative about American cuisine. The topic, Black contributions to American cuisine, is one that I had been writing about and exploring on my own for quite a while. In short, my passion projects and skills aligned with their projects.
You are an influencer on Instagram and TikTok and also have a thriving paid subscriber community. How do you use these spaces in different ways to discuss ideas or bring content to your audiences that is meaningful to you?
I show up as myself. My existence in America can be controversial depending on who you're talking to. I'm an outspoken, well educated Black woman who has managed to work in the whitest and most prestigious institutions and also has spent years working in restaurants covered in food splatter. It's not so much a process of using these spaces to find topics to discuss that might be meaningful, but rather giving myself space to process, feel, and just exist even when it seems to piss everyone off.
When/how did you decide to leave the Department of State and become a full-time content creator?
In 2020 I left the State Department, driven by a desire to have more control over my work and living situation. I really made money as a creator at that point, but I needed to find work ASAP and took the chance that maybe this hobby I had nurtured on the side would work out.
How do you feel you use the skills or knowledge gained at MAAS in your career now?
Academically, I don't think I was prepared for a program like MAAS. Floundering through the program created a skillset that lends itself well to any work I will ever do. It taught me how to keep working rather than shut down even when I feel unprepared, overwhelmed, or behind, how to ask for help, and how to stand up for myself. Those are all essential life skills as far as I'm concerned. Oh, and I met my gorgeous husband in MAAS 🙂
What has surprised you most in your work?
My work surprises me every day. Often in our popular culture we dismiss the work of influencers as vapid and pointless. That view is problematic, especially when considering this new and largely unregulated space dominated by young women who are impacting our broader culture and navigating complex issues of agency and entrepreneurship, often with just their phones. Beyond that discussion, my work shows me every day that the littlest things matter. "Silly" or "vapid" posts showcasing my joy will garner heartfelt messages from Black women who want me to know that it's important for them to see Blackness represented in ways that don't just showcase pain or degradation. A series on moving to Arkansas will spark discussions on the second Great Migration, elitism, and more. Even though I know that the little things matter in our day to day lives and online, I'm always still surprised by how very simple things can spark such intense responses from community members, business owners, and beyond. As someone who tends to get caught up in worrying about and focusing on the "important stuff," it's a good reminder that life and work should encompass more than the big worries I have about issues like white supremacy and climate change.
This article first appeared in the Winter/Spring 2022 CCAS Newsmagazine.