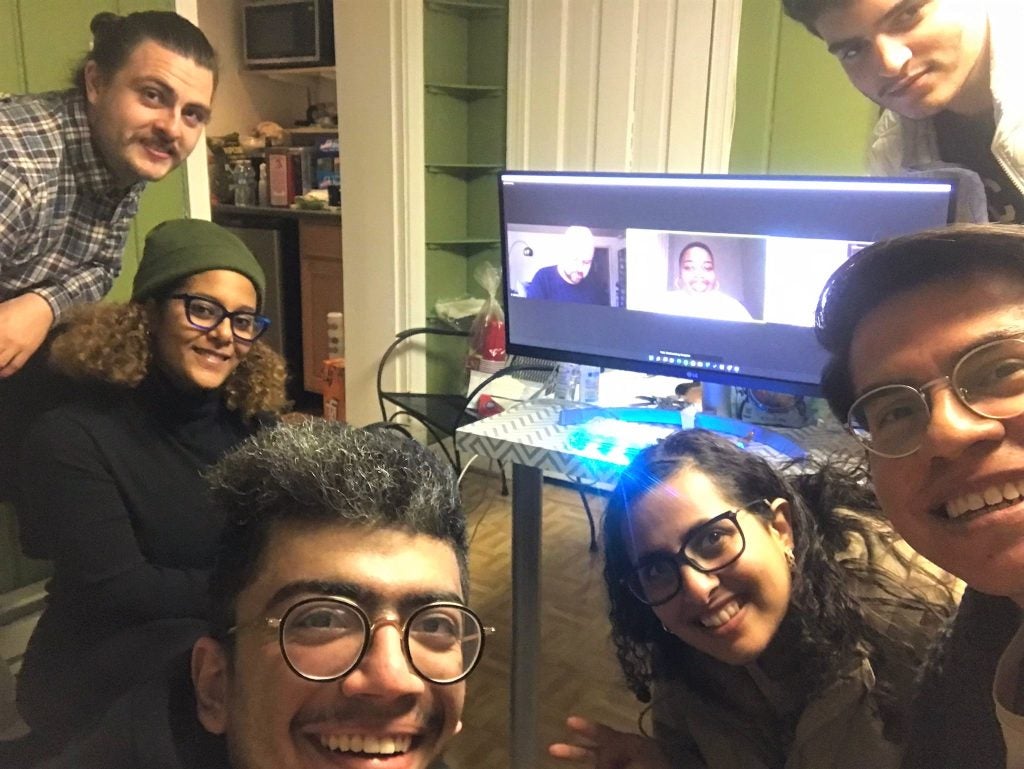 By Maddie Fisher
Over the academic year, CCAS has offered a mix of online, in-person, and hybrid programming that has enabled us to reach audiences beyond DC, welcome speakers from all over the world, strengthen partnerships with both on-campus and external co-sponsors, and provide widely accessible education on contemporary issues related to the Arab world.
In Fall 2021, the Center was honored to host Dr. Katty Alhayek, an expert on media, gender, and displacement in the MENA, as an assistant teaching professor at CCAS. Alhayek, a MESA Global Fellow originally from Syria, came to Georgetown through the Scholars at Risk program. During her semester at CCAS, Alhayek organized and moderated a panel of Arab women filmmakers whose works document the aftermath of the 2011 uprisings across the region. Alhayek led a candid conversation on the challenges of accurately depicting the hardships of war without sensationalizing or retraumatizing those affected. The event was held in partnership with the Arab Studies Institute's "10 Years On: Mass Protests and Uprisings in the Arab World" project, a collaboration among universities across the globe. Panelists included Naziha Arebi, a Libyan/British filmmaker and artist; Sara Ishaq, a Yemeni-Scottish film director and screenwriter, and Safa al-Ahmad, a formerly Saudi journalist and filmmaker. ​​The speakers discussed how their attention to gender dynamics enables them to tell stories of everyday life during protests and how they navigate producing films that are often critical of their countries of origin.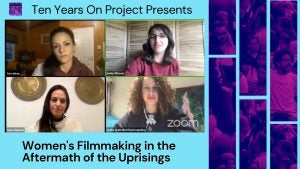 In Spring 2022, the Center worked alongside our students and Georgetown partners to present events celebrating Black History Month and Arab American Heritage Month, in February and April respectively. Sudanese-American MAAS student, Nisrine Hilizah organized and moderated the panel "Black Arabic: A Discussion of Sub-Saharan Arabic Dialects," which was inspired by an article on commonly understudied African dialects of Arabic written by Stanford professor and event panelist, Dr. Vaughn Rasberry. Hilizah and Rasberry were joined by Georgetown's Communication, Culture, and Technology alumnus, Bentley Brown, who grew up in Chad as a native speaker of Arabic. Nisrine led a thought-provoking conversation on the racialized hierarchies between Arabic dialects and pushed for the western academy to give better recognition and resources to Arabic speakers who are too commonly ignored in the field of Arab studies. You can watch a video of the event here.
In conjunction with Arab American Heritage Month, CCAS and several GU collaborators welcomed Bentley Brown back for a screening and discussion of his film Revolution from Afar on diaspora arts activism in the 2019 Sudanese revolution. Following the film, Kawther Berhanu (MSFS'22) moderated a panel discussion with Brown and cast members poet Bayadir Mohamed-Osman and musician G-Salih, who reflected on their experiences as activists and members of the Sudanese diaspora during the revolution. The panel additionally included commentary from Dr. Elobaid Elobaid, an adjunct professor at the Institute for the Study of International Migration. In celebration of Ramadan, attendees enjoyed an Iftar dinner catered by a variety of Arab American vendors from the DC area.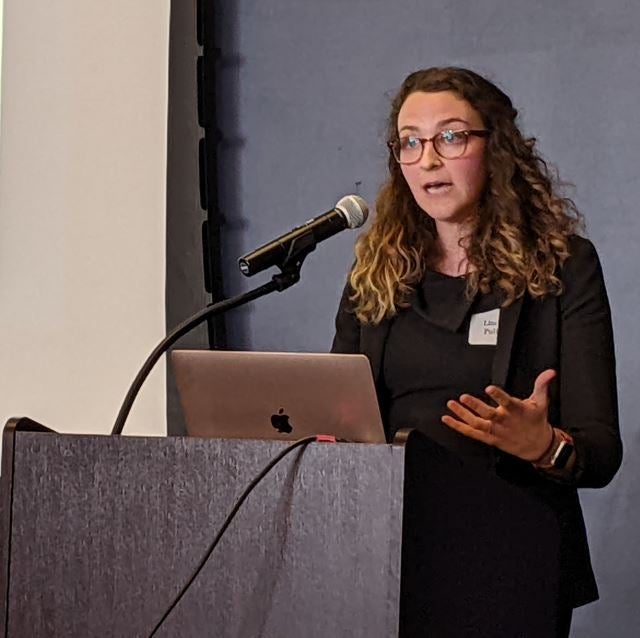 Also in April, CCAS hosted the annual American Druze Foundation (ADF) annual lecture and dinner, featuring a talk by this year's ADF Fellow Dr. Lindsey Pullum titled "Druze Nationalism: Yesterday, Today, and Tomorrow." Despite being a transregional religious minority, Druze of Israel are considered very different from Druze in Syria and Lebanon. How did Druze come to be segregated from their co-religionists while also ideologically and culturally intertwined with more hegemonic identities and institutions of the state? Pullum's talk sought to address these questions by examining sociohistorical and sociopolitical contexts of Druze positionalities, loyalties, and fragmentations. She argued that national categories of affiliation like "Arab" create the necessary slippages to reinvent cultural citizenship, which are personified by Druze.
Maddie Fisher is the CCAS Events and Programs Manager, as well as a second-year student in the MAAS program.
This article appeared in the Winter/Spring 2022 CCAS Newsmagazine.