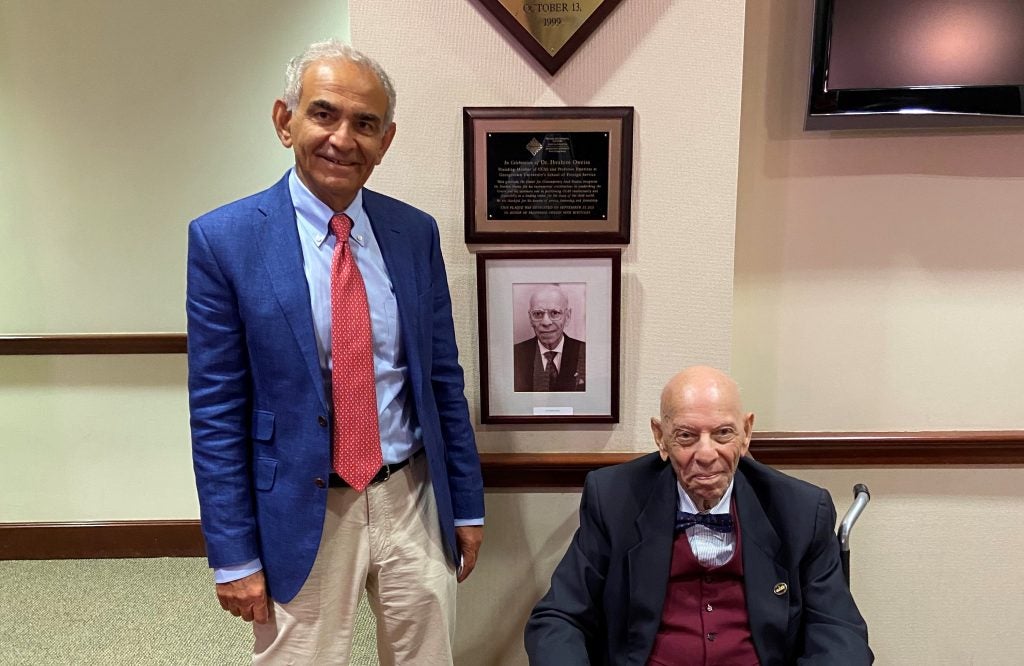 By Lucie Weismüller
If you ask a CCAS faculty member to name a pioneer in advancing the study of the contemporary Arab world, most will undoubtedly raise the name of Dr. Ibrahim M. Oweiss, professor emeritus at the School of Foreign Service and one of the founding members of CCAS. To honor his immense contributions to the center, CCAS dedicated a plaque to Professor Oweiss at a small gathering led by CCAS Director Dr. Joseph Sassoon on Professor Oweiss' 90th birthday in September 2021. The dedication event was attended by Oweiss, his wife and retired Georgetown French professor Celine Oweiss, and several members of their family, each of whom have their unique ties to Georgetown (see photo).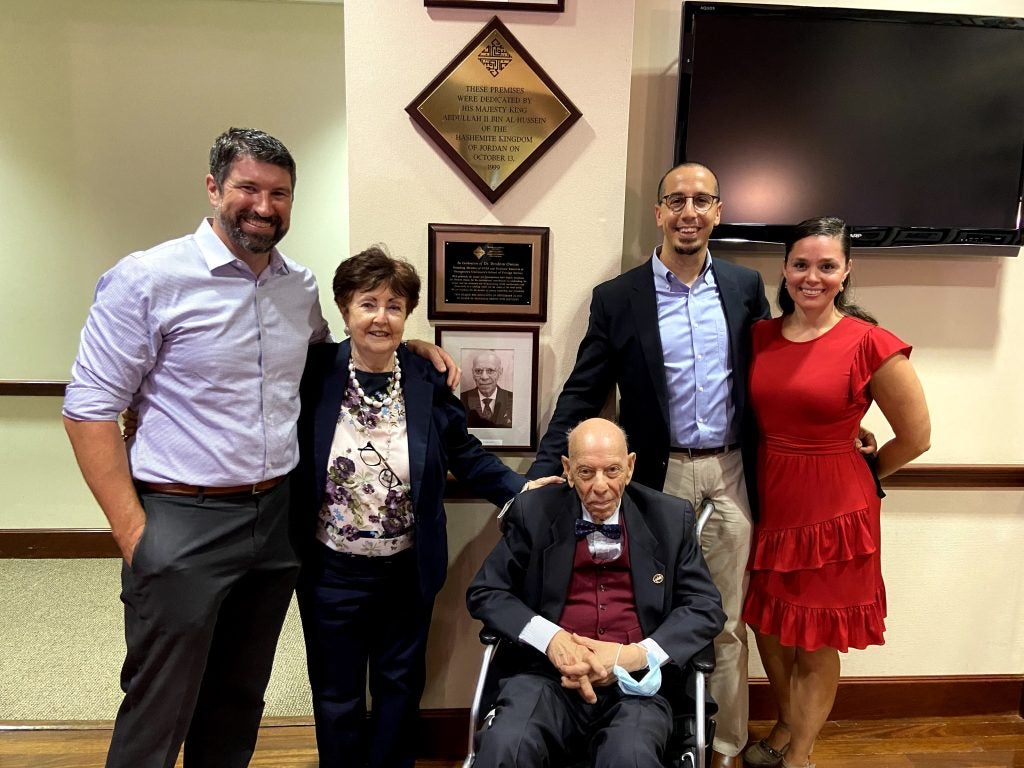 "Dr. Oweiss is an absolutely incredible personality," says Sassoon. "He proposed setting up a center that would be different from other academic centers because it would be a center for contemporary Arab studies, and not focused only on the historical Middle East." He gained the support of Georgetown's then President, Father Robert Henle, and Dean of the School of Foreign Service, Peter Krogh. "Dr. Oweiss had phenomenal contacts throughout the Arab world, and they managed to get enough financing, got Georgetown interested in the idea, and it started rolling," continues Dr. Sassoon. As a result, Oweiss and several others, including Jack Ruedy, Halim Barakat, Wallace Erwin, Irfan Shahid, Hisham Sharabi, Michael Hudson, and Barbara Stowasser, inaugurated CCAS in 1975. Oweiss explains that he "helped establish the center because it was a positive contribution to the educational mission of Georgetown University, and to create new discussions about Arab life, society, and politics." Almost 47 years after its opening, CCAS remains a leading academic center in the study of the contemporary Arab world, providing students with a rigorous mastery of Arabic coupled with a multidisciplinary scholarly track.
Ibrahim Oweiss was born in Egypt in 1931 and graduated in 1952 from Alexandria University with a bachelor's in commerce and majors in economics and political science. He subsequently moved to the United States to continue his education and received his master's and Ph.D. in economics from the University of Minnesota. He joined Georgetown's faculty in 1967 and taught economics for nearly 40 years at both the Washington and Qatar campuses—counting future president Bill Clinton among his students. Oweiss has authored more than 50 scholarly publications throughout his career, including several books. In 1981, while at Oxford University, he developed the Oweiss demand curve, a theoretical framework for predicting changes in oil prices. Oweiss is also one of the founding fathers of the College of Commerce and Economics at the Sultan Qaboos University in Oman.
But his career has not been limited to academia. Oweiss worked as an international economic advisor for several governments, including those of Egypt, Kuwait, Oman, Qatar, Panama, Saudi Arabia, and Taiwan, and also served as an advisor to U.S. President Jimmy Carter. Under Egyptian President Anwar Sadat, Oweiss served as First Under-Secretary for Economic Affairs for the Egyptian government and Chief of the country's Economic Mission to the U.S. in New York, holding the rank of Ambassador. He also served as President of the Council on Egyptian-American Relations. Oweiss was honored by Sadat with Egypt's first-class Order of Merit for his many years of service to the country. In addition, her Majesty Queen Elizabeth sanctioned his admission as a Commander to the Order of St. John, a British royal order honoring individuals who strengthen the spirit of mankind and promote humanitarian work. Oweiss also holds the Grand Cordon of the Order of Mohammed Ali Pasha, an Egyptian order of chivalry, and the Knight of the Order of the Queen of Sheba, an order established in 1922 in Ethiopia.
Prof. Sassoon concludes, "Dr. Oweiss' life achievements are an excellent reminder for current and future generations of students how one's vision can lead to something as amazing as CCAS, which for over 45 years continues to teach and train students from all around the globe about the Arab world."
Lucie Weismüller is a first-year MAAS student originally from Frankfurt, Germany.
This article first appeared in the Winter/Spring 2022 CCAS Newsmagazine.