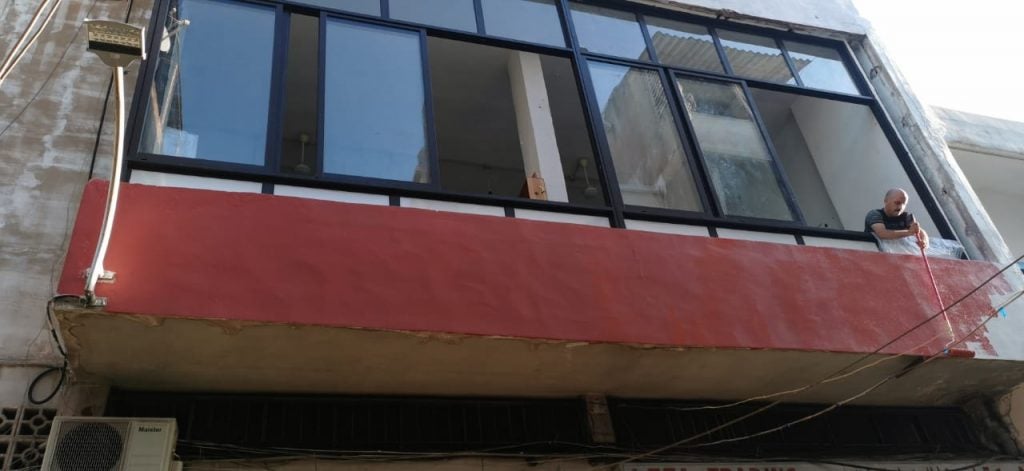 By Laila Jadallah
For many of Beirut's artists, curators, and gallery owners, the devastation of the August 4, 2020 port explosion—which took the lives of 208 people, injured thousands more, and left more than 300,000 families homeless—was both personal and professional. Located in a thriving cultural district, the port area is home to numerous arts venues. As a result, the homes and studios of many artists, as well as galleries and institutions like the Arab Image Foundation, Sursock Museum, Salah Barakat Gallery, and Galerie Tanit, were severely damaged or destroyed in the blast.
Those in the Beirut arts community have responded in a variety of ways, some turning to their art to find solace. Within days of the blast, artist Abed Al Kadiri shifted his focus from trying to salvage his artwork from underneath the debris of the damaged Galerie Tanit to creating something new: an 80-drawing mural of a forest titled, "Today, I would like to be a tree." The installation, which is featured on the cover of this issue, was a tribute to the friends Al Kadiri lost, as well as a fundraiser to support Bassma, a Beirut-based nonprofit helping affected families rebuild their homes.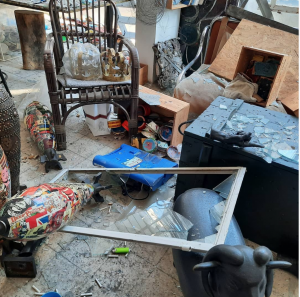 Although Beirut-based, multimedia artist Katya Traboulsi began to rebuild her home studio within days of the explosion, she was unable to return to her art until several months had passed. Now Trablousi finds art to be a tool of mourning and survival, as well as a way for artists to bear witness to important events. She says, "I am so lucky to have my art. I locked myself in my studio, and I painted because I needed to be in touch with art."
In the days and weeks that followed the blast, artists and gallerists used their own resources to begin rebuilding their spaces, knowing that financial support from the government would likely never come. While still grieving the loss of his art handler, Salah Barakat, says he decided to rebuild and reopen 30-year-old Salah Barakat Galleries out of duty to his staff and the fabricators and artists with whom he works. "Life goes on, not because we have hopes that things will get better," says Barakat, "but because we are obliged by duty to continue on the mission to defend and promote an identity that is multidimensional and multi-ethnic."
Since reopening five weeks after the explosion, Barakat has staged three exhibitions and is planning more. His most recent, a retrospective of the artist Joseph El Hourany and a solo exhibition by sculptor Samar Mougharbel, speak to the events of the past year. Like Barakat, Galerie Tanit's team has been steadily rebuilding. Their upcoming show featuring work by seven artists and collectives from Lebanon aims to uplift the community and move it forward while remembering and honoring those who lost their lives. Without recognition from the government about the explosion or the lives lost, grief remains just under the surface for many.
Even before the explosion, Beirut's arts sector, like those elsewhere in the world, was deeply affected by the pandemic. As the country went into lockdown last year, exhibitions were canceled or delayed, and galleries were forced to close. Despite many galleries moving exhibitions online, the art market in Lebanon took a hit. Now facing one of the worst economic crises since Beirut's civil war, artists and gallerists are expressing uncertainty and anxiety about the future. Artist Mansour El Habre describes the current situation as chaotic, like "living in another war, this time without a canon."
Despite the feelings of exhaustion, depression, and anxiety, artists and gallery managers expressed that staying hopeful and moving forward are the only options. For gallerists like Barakat, staying open is a form of cultural resistance. He says, "when you carry on, on a personal level, it becomes stronger because no one can stop us." However, with increasingly expensive or limited access to art supplies, and no access to savings during a deepening recession, solidarity and support from the outside world are critical. A few ways that international arts communities can help are by recognizing the ongoing challenges artists face, purchasing artwork, sponsoring artists, and facilitating partnership opportunities and exhibitions abroad that will provide visibility for Lebanese artists. Galerie Tanit and Saleh Barakat Gallery have already begun to participate in international art fairs and partner with curators and art spaces to exhibit their artists abroad. However, gallery managers stress that even more work is needed to help sustain artists and the arts sector in Lebanon as the future remains uncertain.
Laila Jadallah is a rising second-year student in the MAAS program, Managing Director of the Washington Studio School, and an independent art producer/curator.