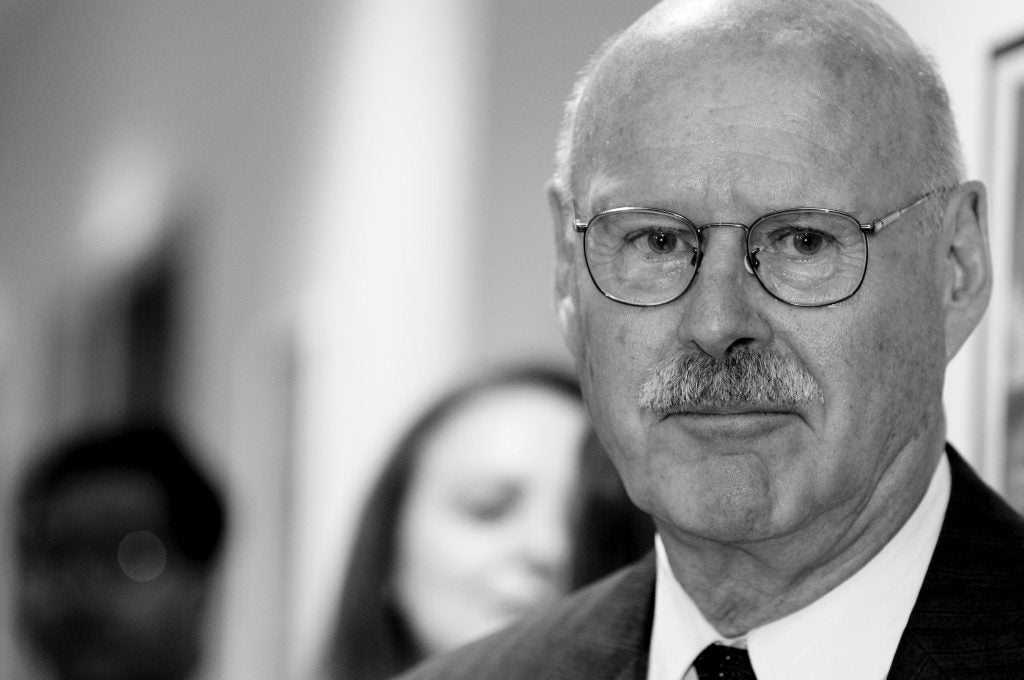 It is with heavy hearts that the CCAS community mourns the loss of Professor Emeritus Michael Craig Hudson, who passed away on May 25, 2021. Dr. Hudson was a founder of the Center for Contemporary Arab Studies and served as its director for many years (1976-1982, 1984-1989, 2004-2006, and 2007-2010). A Professor of International Relations at Georgetown University, Dr. Hudson also held the Seif Ghobash Chair of Arab Studies at CCAS.
"Mike was a brilliant political scientist of the Arab World, with a deep knowledge of the politics of Lebanon, Palestine, Egypt and Yemen, as well as U.S.-Arab relations," writes his longtime colleague Professor Judith Tucker. "His was a knowledge informed by a lifetime of experience on the ground, empathy and respect for the people of the region, and warm collaborative relationships with his colleagues across the Arab World."
Dr. Hudson was born on June 2, 1938 in New Haven, Connecticut. His father, Robert Bowman Hudson, Jr. of Dublin, Virginia, was an urban planner and pioneer of public educational broadcasting. His mother, Joan Loram Hudson, was born in South Africa and was a champion college tennis player. Michael grew up in Denver, Colorado and attended high school at University High in Champaign- Urbana, Illinois and also in Ann Arbor, Michigan. He graduated from Swarthmore College and received his PhD in political science from Yale University, studying with legendary political scientist Karl Deutsch and influenced by anthropologist Marshall Sahlins, with whom he took a course as a high school student.
Dr. Hudson's lifelong engagement with the Arab world was sparked when, as an exchange student in Beirut, he witnessed first-hand the U.S. military intervention in the 1958 Lebanese crisis. He went on to focus his study of politics and international relations on the Arab world and Middle East. His first book, The Precarious Republic: Political Modernization in Lebanon (1968), was widely considered the pioneering English language monograph on that country's political fragility. Similarly, his second book and master work, Arab Politics: The Search for Legitimacy (1977), crossed the entire Arab world and was a major contribution to the exploration of identity, history and power as contributors to regional instability. In addition to these two major works, which grounded the field of Middle East political science in qualitative research and comparative frameworks, he edited and authored dozens of volumes, scholarly articles, and commentaries. Dr. Hudson served as president of the Middle East Studies Association in 1986-87 and was a frequent and sought-after media commentator on Middle Eastern affairs and US foreign policy for decades.
Dr. Hudson began his career as a lecturer at the City University of New York, later moving to Washington, DC to teach at the School of Advanced International Studies (SAIS) at Johns Hopkins University. In 1975, he joined the School of Foreign Service of Georgetown University as director of the Center for Contemporary Arab Studies and accepted a position as professor of international relations in the Government Department in 1979. He worked closely with his lifelong friends Hisham Sharabi, Halim Barakat, Clovis Maksoud, Ibrahim Oweiss, John Ruedy and Judith Tucker, among many others, to shape the field of interdisciplinary Arab studies. "As one of the founders and longtime director of CCAS, he was the chief architect and major force behind the Center's rise to national and international prominence as the premier site for research, teaching, and study of the Arab World," writes Judith Tucker. "Michael was a driving force at CCAS, laying out plans and building roads for so many others to travel," adds Professor Rochelle Davis. "As a founder of CCAS, he helped create a Center whose vision remains one of ethical and in-depth engagement with the Arab world."
Former staff remember Prof. Hudson as a mentor and friend. "He was a true leader and visionary as he guided the growth and development of CCAS, with decisions based on integrity, unwavering principles, and an abiding caring for the people of the Arab world," writes former CCAS Assistant Director Zeina Azzam. "Mike always looked out for CCAS staff, bringing out the best in us and opening doors to allow our potential to shine. He was an inspiring director, professor, and scholar and a genuine humanitarian."
"Mike was a rare individual: a combination of great intellect, open curiosity and genuine fun," recalls former CCAS Assistant Director Rania Kiblawi. "You knew he was hatching some great idea by the twinkle in his eyes and that funny way of rubbing his head. He was a joy to work with, always thinking of ways to make CCAS stronger and better, and he taught us to embrace challenges on behalf of a greater cause."
After serving several terms as CCAS director, Dr. Hudson was recruited as the founding director of the Middle East Institute of the National University of Singapore from 2010 to 2014. Throughout his career he advocated for human rights and democratization throughout the Middle East and was a passionate supporter of Palestinian liberation. "Michael was always willing to stand up for what was right, whether it was to take a strong public stand on Palestinian rights, to protect junior faculty from unrealistic demands or to advocate for students," writes Professor Fida Adely.
Dr. Hudson lost his wife and beloved companion of forty-four years, Palestinian-Lebanese biologist and toxicologist Vera Wahbe Hudson, in 2007. Michael was an avid bon vivant, delighting in fine food and drink, music, theater, literature and spending time with friends, old and new. He enjoyed running and swimming until his last days of life. He is survived by his brother Robert B. Hudson III and sister-in-law Perry Hewitt of Chapel Hill, North Carolina; his daughter Leila Hudson, son-in-law Riad Altoubal, grandchildren Zayna and Zayd Altoubal of Tucson, Arizona; and his daughter Aida Hudson, son-in-law Andreas Laursen and grandchildren Annika and Benedict Hudson-Laursen of Copenhagen, Denmark.
"Michael was truly a remarkable person with high intellect, and a keen sense for initiatives and management," writes CCAS Director Joseph Sassoon. "His dedication for Arab studies knew no limit, and he will be remembered by his students for years to come."
Professor Hudson's family, friends and colleagues will gather in Washington, DC in July 2021 to remember and celebrate his life.
Remembrances from Professor Hudson's colleagues, friends, and students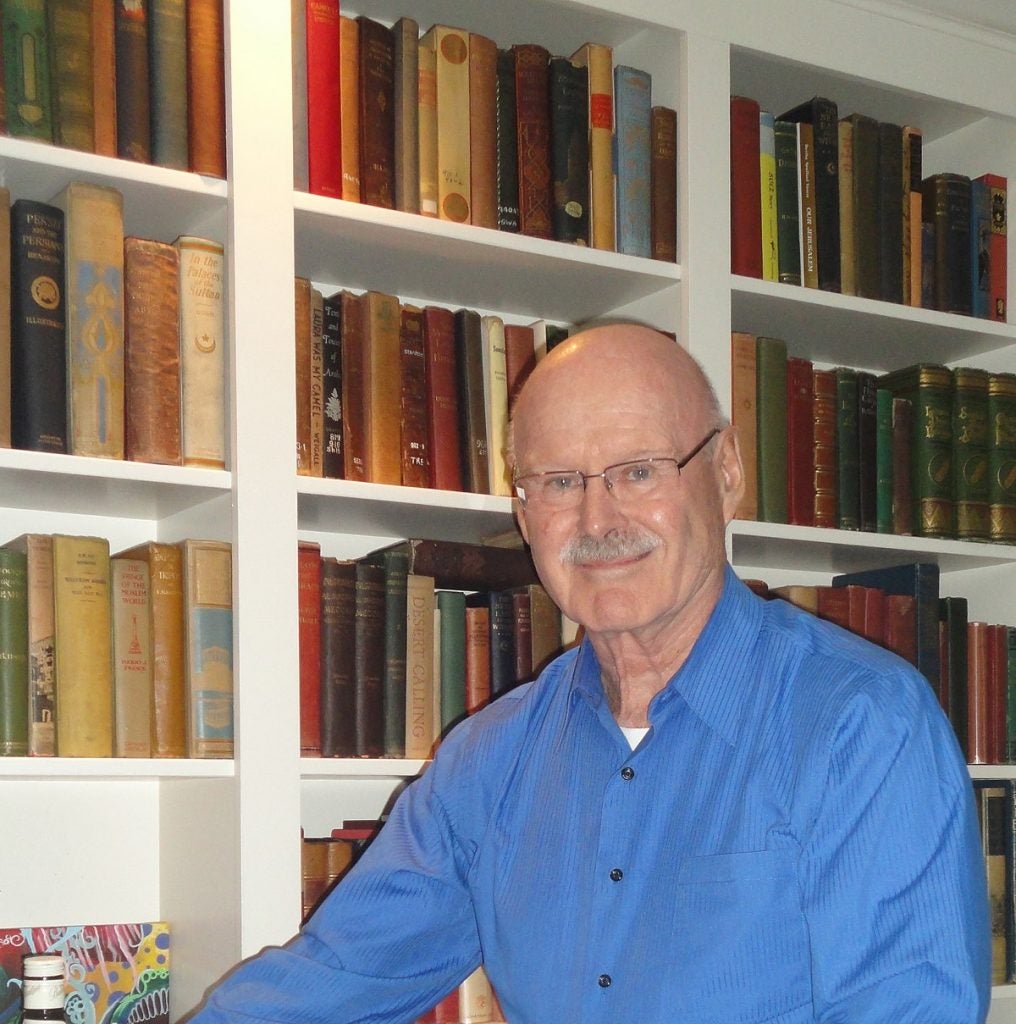 If you would like to submit condolences to be shared on this page and with the Hudson family, you may do so here. 
Mike Hudson was the rock solid foundation upon which Georgetown's Center for Contemporary Arab Studies was built. His authority, integrity and courage underpinned, and basically enabled, a bold institution-building effort in American higher education. His impeachable credentials as an Arab studies scholar gave credence to our aspirations to bring into being a center of excellence in a long neglected field. And his steadfastness enabled the Center to sail resolutely through sometimes troubled waters.
As Mike, Hisham Sharabi, Clovis Maksoud and I hit the fundraising road and wandered the deserts, hats in hand, Mike was the soul of resourcefulness, patience and unfailing good humor. He was such a great traveling companion that
fundraising, often looked upon as a burdensome requirement, actually became something of a pleasure!
Back at headquarters, Mike's leadership of the fledgling Center, enthusiastically supported by his vivacious wife, Vera, was multidimensional and infused by an esprit captured in the legendary buffet dinners at their home. Mike, his wife and their home combined to launch, practically from scratch, what rapidly became the country's premier center of academic attention to the Arab world.
The story of the development of the Center for Contemporary Arab Studies is recounted in some detail in the memoir I have published on my years as Dean of the Walsh School. A photo of Mike on page fifty-four is the centerfold of that story. And
with good reason, because he was right out of central casting for the historical act of institutional creation over which he so magnificently presided.
Peter F. Krogh
Dean Emeritus, The Walsh School of Foreign Service
Nantucket Island, June 2, 2021
Mike was a brilliant political scientist of the Arab World, with a deep knowledge of the politics of Lebanon, Palestine, Egypt and Yemen, as well as U.S.-Arab relations. His was a knowledge informed by a lifetime of experience on the ground, empathy and respect for the people of the region, and warm collaborative relationships with his colleagues across the Arab World.
As one of the founders and long-time director of CCAS, he was the chief architect and major force behind the Center's rise to national and international prominence as the premier site for research, teaching, and study of the Arab World. He built CCAS as a special community: Mike and his wife Vera were consummate hosts who often brought faculty, staff and students together at their house in Chevy Chase for great food and drink and the most convivial of parties. Mike was also a master of the rhymed couplet, a skill he put to good use composing poems to celebrate staff members on significant occasions, and an accomplished doodler whose playful and artistic renditions of the ongoing business at meetings delighted anyone lucky enough to sit beside him.
Mike was a man of great kindness and strong moral compass. He never wavered in his backing for his faculty and staff, and held firm to his principled positions of support for the aspirations of the people of the region. He was a strong advocate for Palestinian human rights, and met the attacks that often followed with typical calm and quiet determination to persevere.
Judith Tucker
Professor & former CCAS Director
He was truly a remarkable person with high intellect, and a keen sense for initiatives and management. He was among the founders of MESA and our Center. His dedication for Arab studies knew no limit, and he will be remembered by his students for years to come.
Joseph Sassoon
Professor & CCAS Director
It was my sincere honor to work with Michael Hudson. When I joined CCAS in 2007, I was a young professor who had just received a PhD and felt that I was among giants in my field at CCAS. Michael was a wonderful colleague who made me feel welcome, and always had his door open. I knew I could come to him with any concerns. Michael was always willing to stand up for what was right, whether it was to take a strong public stand on Palestinian rights, to protect junior faculty from unrealistic demands or to advocate for students. I feel a great deal of responsibility as a CCAS faculty member to carry on the legacy of such a principled scholar and intellectual leader. Michael, you will be missed. We all benefit tremendously from what you have left for us and only hope we can carry on your tremendous legacy. Rest in Peace.
Fida Adely
Associate Professor & MAAS Academic Director
Michael was a driving force at CCAS, laying out plans and building roads for so many others to travel. As a founder of CCAS, he helped create a Center whose vision remains one of ethical and in depth engagement with the Arab world. He led with quiet but fierce determination, and I feel lucky to have learned from him how to be a scholar, an administrator, and a professional. He mentored me and other junior faculty with kindness and consideration and honesty. We miss his spirit and conviction — may we continue on in his footsteps and in the path he laid.
Rochelle Davis
Associate Professor & former CCAS Director
It is with great sadness that I learnt about our colleague Professor Michael Hudson's passing. As co-founder and former Director of CCAS , Michael paved the way with integrity and courage. He was also a pioneering scholar of Political Science and Middle East politics who broke new ground in the analysis of political legitimacy in the Arab world, US foreign policy in the Middle East and the Israeli-Arab conflict. I am deeply honored to follow in his footsteps as holder of the IR position and Seif Ghobash Chair in Arab Studies at CCAS.
In our last exchange during the pandemic, he wrote: "I am glad to be with family at this time." My sincerest condolences go to his family and loved ones.
Marwa Daoudy
Associate Professor
A man of profound humanity. Professor Emeritus Michael Hudson was a brilliant academic. His talent, unwavering principles and humor were a delight and an inspiration to everyone around him. Michael leaves behind a rich, innovative and comprehensive legacy in his field. I will forever miss my friend and colleague. His unequivocal support for me and others was remarkable. His absence can never be filled. I am so sorry for your loss, my dear friend. Your loss is a loss to us all, an international community of colleagues, students and researchers. May you rest in peace Michael.
Noureddine Jebnoun
Adjunct Associate Professor
A gentleman, a scholar, a smart, sweet and honorable man, a firm believer in justice. Dr. Hudson, I will cherish your memory forever.
Belcacem Baccouche
Assistant Teaching Professor
Michael Hudson was both a personal and a professional colleague. In the days when he and I were graduate students, regional studies approaches were still being defined. In his career, he played an important role in including political science in the emerging field of Middle Eastern Studies. As a scholar-colleague, he was someone with whom it was always an informative pleasure to have a conversation.
John Voll
Professor Emeritus of Islamic History
Michael Hudson will be remembered for his outstanding scholarship and leadership in Arab and Middle East studies, reflected in his many years as a professor and director of the Center for Contemporary Arab Studies at Georgetown and later his role as Founding Director of the Middle East Institute at the National University of Singapore. Personally, I remember how delighted I was when he agreed to contribute to my first book Islam and Development in 1980. Years later we shared an enjoyable and memorable trip to the Sudan with Muhammad Ali. I was especially grateful when he strongly encouraged me to come to Georgetown and CCAS graciously scheduled my first public lecture. What I, and many others, admired most was Mike's willingness to speak out on difficult and controversial issues.
John L Esposito
Founding Director, Prince Alwaleed Bin Talal Center for Muslim-Christian Understanding
Michael and CCAS will forever be thought of as inseparable. His contributions as a human being and scholar will never be forgotten. This is a great loss. Deepest condolences.
Peter Tanous
Member of CCAS Board of Advisors
Mike was always ready to meet people and connect, and I appreciated the way he included me in meetings with visitors to CCAS. Conversations with Mike were always interesting and I will miss the unexpected phone call from him saying, "I'm in town so let's catch up!"
Naila Sherman
Former CCAS Assistant Director

Michael Hudson was a mentor and a dear friend. I treasure the sage advice and unfailing support he gave me for over four decades, since he first hired me to work at Georgetown. He was a true leader and visionary as he guided the growth and development of CCAS, with decisions based on integrity, unwavering principles, and an abiding caring for the people of the Arab world. Mike always looked out for CCAS staff, bringing out the best in us and opening doors to allow our potential to shine. He was an inspiring director, professor, and scholar and a genuine humanitarian. I was fortunate to know his late wife, Vera, for whom I had a special fondness. I will miss Mike deeply.
Zeina Azzam
Former CCAS Assistant Director
Mike was a rare individual: a combination of great intellect, open curiosity and genuine fun. You knew he was hatching some great idea by the twinkle in his eyes and that funny way of rubbing his head. He was a joy to work with, always thinking of ways to make CCAS stronger and better, and he taught us to embrace challenges on behalf of a greater cause. He was more than a colleague and a mentor, he was a good friend and I'll miss him dearly.
Rania Kiblawi
Former CCAS Assistant Director
I had the pleasure of being part of the CCAS family for 12 years (1993-2005), and until this past pandemic year saw Mike Hudson just about annually after that — generally when he visited Georgetown-Qatar, or at MESA gatherings, or at CCAS events (including memorials for other departed faculty members). Mike worked hard — teaching, writing, "administrating", speaking — on behalf of the Center, Georgetown, and the Arab world. I can only imagine how many MAAS applications he read, how many oral comprehensive exams and thesis presentations he sat through, how many student advising meetings he conducted, or how many fundraising trips he took and functions he attended to ensure the continued support of the Center.
But he knew how to relax, too, and mostly I think of Mike (and Vera!) entertaining at their home, Mike cracking wry jokes at faculty meetings, Mike holding my (now adult) teething daughter and letting her chew on his arm, Mike good-naturedly taking Hisham Sharabi's ribbing about abstaining from alcohol during Lent, Mike heading off for the annual family vacation in Assateague, or Mike leaning back against the kilim-covered cushions outside his office, his hands linked behind his head, bright blue eyes twinkling, as he recounted a past hilarious exploit with one or more of his colleagues. We were fortunate to know him.
Liz Kepferle
Former MAAS Academic Program Coordinator 
In 2009, when I was working as CCAS's editor, the center hosted a discussion with Muammar Qaddafi via a video feed. Controversy erupted over giving such a leader a platform, but Mike, who was CCAS's director at the time, held firm and told The Hoya that he wanted to give the audience a chance to "ask tough questions." And indeed, I'll never forget how he pressed Qaddafi on the disappearance of one of the center's board members, a Libyan who had likely been killed by the Qaddafi regime. I was so proud to work for him and so admired his principles and courage, not only in this instance but in so much of what he worked for and stood for. Mike was also a great friend and a lot of fun – I followed him to Singapore, where I worked for him at the National University of Singapore's Middle East Institute for another year and a half, and I'll always remember the parties, dinners, and travels we shared with my husband Brian, Professor Peter Sluglett, and the rest of our group of friends. I miss Mike already.
Mimi Kirk
Former CCAS Editor
I valued Mike's scholarly accomplishments, and his collegiality as a faculty member. His appreciation and support the library's activities and collections were especially meaningful to me, as he reached out to include me on the CCAS Exec. which gave me an opportunity to work more closely with CCAS activities but I also felt personally that he strongly supported me in my role as librarian for Arab, Middle Eastern & Islamic Studies, often challenging to achieve with other faculty members & centers/departments at the University. I will always remember him for the above as well as for the twinkle in his eyes when he spoke more informally.;-)
He is sorely missed.
Brenda Bickett
Former Arab, Middle Eastern & Islamic Studies Librarian, Lauinger Library
One spring break in grad school as we were writing our dissertation proposals, Leila Hudson and I drove from Ann Arbor to DC and stayed with her parents for the week. Her father Michael Hudson made us coffee in the mornings & patiently listened to our grad school angst at the kitchen table. He encouraged us to reach out to scholars who had made an impact on us, let them know how their work had influenced our learning, and seek their counsel as we were preparing to write our dissertations. He gave me wisdom to move beyond thinking of scholars as their books and the courage to seek their mentorship. Following his advice, I reached out to several scholars, whose advice and guidance was especially meaningful. There are so many stories like this–of Michael Hudson guiding and encouraging young scholars at pivotal moments in their careers. May we honor his memory by remembering how important it is to mentor others, to support our colleagues, to remind each other of the joy of learning together as a community.
Shiva Balaghi
What a loss. Michael C. Hudson, or Abu-Leila as many of his students called him, was such an incredible mentor, always leading by example. In the classroom, he was always keen on explaining, with utmost nuance and justice, perspectives with which he disagreed. He never missed an opportunity to elevate the voices of Arab scholars and researchers. He encouraged us to approach our understanding of the Arab world with modesty. And he pushed us to follow our passion, be it in academia or elsewhere. On a personal level, he was with me at every major turning point. He called me in February 2004 to tell me I was accepted into the Masters in Arab Studies (MAAS) at Georgetown. He was there to tell me that I passed my MAAS oral comprehensive exam with distinction after he, alongside the late Barbara Stowasser, had grilled me with his tough questions for almost 90 minutes. He supported me when I chose to pursue a PhD, and he was even there at my first MESA panel to congratulate me on my first academic conference presentation. He was always there with me and he will always be. RIP Abu-Leila.
Hesham Sallam
Rest in peace Dr. Hudson. So glad to have had the honor of being your student. You were a true gentleman.
Dina Shehata Abou Youssef
Professor Hudson's courses were both a challenge and a pleasure. I was happy to have him shape my work and dissertation. His sage advice to study political culture — carefully — is part of everything I both write and teach. My sincerest condolences to his daughters.
Russell Lucas
Michigan State University (PhD, Georgetown 2000)
I met Professor Hudson 20 years ago as a first-year graduate student in the MAAS program. He was a font of knowledge who was unassuming, patient, and kind. It was so great to see him at the alumni dinner a couple years ago. Abu Leila will be sorely missed!
Sheena Mac
I did not take any classes with Professor Hudson while at CCAS, but like other students got to know him because he was its institutional personification, and made an effort to acquaint himself with all of its students. Needless to say all of us left CCAS enriched by his presence and with fond memories of him. It was also around this time that the self-appointed Commissariat of Middle East Studies was being established, and Professor Hudson was one of its earliest and most prominent targets. Given his central role in establishing CCAS, and promoting Arab studies more broadly, there was a logic to their scurrilous tactics. I last met Professor Hudson in 2017, after he had returned from Singapore with similar success and I was a visiting researcher at CCAS. We had lunch one afternoon, and it was great to experience that he was as engaged, full of anecdotes, and informative as he had been three decades earlier. Even as his legacy lives on, he will be sorely missed.
Mouin Rabbani
How to pick out memories of "Abu Leila", as he always signed off his emails? There are too many good ones. His Lebanon seminar at CCAS re-introduced me to a country I thought I knew, as he gently and generously provoked all his students to rethink assumptions and ask the hard questions. He loved to laugh, and we shared many a joke while standing outside the CCAS terrace door. In the ensuing years, I was lucky enough to have also seen him a couple of times in Beirut, in a country he clearly loved and later on, mourned. One of my favorite memories there was of having dinner with him and fellow MAAS alum Bassam Haddad at the Phoenicia Hotel, discussing regional politics and laughing. The three of us then continued the conversation over a midnight corniche stroll, occasionally stopping to listen to the waves and the heckling of the twenty-something dudes hanging out on the railing. Rest in peace and power, Abu Leila. my condolences to his family and the legions of friends he left behind.
Nadya Sbaiti
I was deeply saddened to learn of the passing of Michael C. Hudson, political scientist and specialist of the Middle East, co-founder of the Center for Contemporary Arab Studies at Georgetown University, colleague and teacher to many, and mentor and dear friend to me. Mike's scholarship broke through orientalist standards and marked the path for nuanced studies of Arab regimes and political movements. He took fieldwork, language, and local perspectives seriously. His work represented what PS was then not afraid to do: it tackled big questions.
Mike's legacy is his service to the area study of the Middle East, the prize element of which was CCAS, an interdisciplinary center dedicated to the development and promotion of Arab Studies. It is the best of its kind. It was there I got to know Mike, my professor, advisor, the Center's director, and my boss. I became his RA in the first year of my MA, charged with one lit review after another—he wanted always to be on top of the "state of the field." That summer he told me he was leaving to become the first director of the Middle East Institute at NUS. And he asked me to go with. I looked up Singapore on a map, packed my bag, took a year leave, and went on a life adventure. We traveled to Malaysia, Indonesia, Thailand, Bahrain, Qatar, and the UAE. We were overwhelmed with work but we had fun too. He taught me how to drink scotch and martinis. I witnessed the admiration of scholars around the globe who met w/ Mike. They described him as the "father" or "dean" of Middle East studies. I watched the director of Peking University's Center for Middle East Studies shake his hand and say, "We are all your students."
He always treated me as a colleague, not a subordinate. Of course, I was always his student too, learning how he navigated academia, service, diplomacy, and how he grappled with the astonishing Arab uprisings that were unfolding during that year. In the 1990s he was part of a group of optimistic MENA scholars who saw democracy on the horizon. Critics called them "democrazy." Authoritarian resilience seemed to prevail. It seems to still. But he had the hope of the people always in his heart.
His hope was unrelenting in his battle with cancer. He got his diagnosis just before we left to Singapore. He wasn't ready to stop living. I'm so glad he had a while yet. And that he spent such quality time with his daughter and family over the last few years. There's more to be said. I never knew his wife, Vera Wahbe, who is regarded with great admiration and love but who passed before I met Mike.
Thank you for years of support and mentorship. A very dry gin martini to you, Sir.
Rana Khoury
I'm saddened by Michael's death. He was one of the kindest people I have met. Michael: you will be missed. You have led an exemplary life. You are missed, Michael. May you Rest In Peace.
Karam Dana
Michael Hudson taught me that kindness can shine as bright as intellect in academia. When I came to him as a Georgetown sophomore to ask about the MA in Arab Studies, he made me feel instantly welcome, instantly supported, made Georgetown immediately less alienating, closer to the reality of home in Beirut. When I was applying to phd programs in political science, and decided on a last minute change of heart to apply to the program I ended up attending, he graciously produced another recommendation letter (in sharp contrast to an assistant professor who berated me for my lack of planning with a viciousness that still stings so many years later). I will forever remember his map tests, the end of semester gathering at his home with his wife, and the twinkle in his eye that managed to survive even the drabbest MESA hotel corridors.
Julia Choucair
Impossible to express what a mentor means to you. Michael Hudson was my MA advisor & opened a world to me. His office door was always ready to be opened, he genuinely wanted to know what you thought, valued your insights, he worried about you, he liked to laugh & danced like a baba at MESA parties. His voice saying "so how's Beirut?" Always communicated to me that he knew very well how Beirut was and that he wanted to share that concern and love with me. The convo in his office in 2003 about going to Iraq was… memorable. usHis scholarship was engaged with the world, he made bad jokes & furrowed his brow and he tried, in all his many spaces, to make a difference. He was the first person to encourage me to get a PhD & he made each of his many students feel special. just look at all of us on here, mourning Michael Hudson. So many of us, in all areas of the academy, the world. My love and condolences to his family, and to all of us hurting, and reflecting, right now.
Farewell, Professor. And thank you.
Maya Mikdashi
Professor Michael Hudson was a caring and innovative professor who advanced the teaching of political science, and as a leading scholar in founding the Center for Contemporary Arab Studies, he always had at heart the needs of the students, faculty and staff of CCAS. His gentle demeanor , willingness to help and brilliant ideas made his contribution to CCAS and Georgetown irreplaceable.
Susan Douglass
CCAS Education Outreach Director and former MAAS student
Dr. Hudson was my first introduction to the paradigms used to study the Arab world and an encouragement to all of his students. He will be missed, but remembered with gratitude for the knowledge and wealth of experience he shared with his students.
Natana J. DeLong-Bas
MAAS alumna 1993 and Ph.D. 2002
I will never forget meeting Mike for the first time at my interview for a job at CCAS. He immediately struck me with his warmth and genuine curiosity about my experiences, and his insightful questions about my research on the Armenian community in Lebanon. He would often stop by my desk with some news he thought I'd find interesting or send me articles he had come across. His presence commanded a quiet respect, and he treated his staff members with great respect in return. I learned a lot by observing him and always enjoyed running into him at conferences and events in the years after I left CCAS. He led a rich, full, and fascinating life (which I was able to catch a glimpse of through photographs when helping to organize his retirement party from Georgetown). He will be greatly missed by many around the world.
Marina Krikorian
Former CCAS Information Officer and Public Affairs Coordinator
I admired Dr. Hudson's beautiful, clear writing on complex topics, his well-organized lectures, and his fair and empathetic leadership of the Arab Studies Master's Program. I was inspired by his _Search for Legitimacy_ book. This is a loss for our community, but also a time to bring back happy memories of wonderful person and leader.
Brent Haddad
MAAS '85; now Professor, U.C. Santa Cruz
I appreciate the opportunities and new vistas that Professor Hudson opened to me, as well as his personal kindness and humanity.
Thomas H Goldberger
Rest in peace Michael Hudson, your lessons will live on in each of us.
Sherene Seikaly
We lost a giant this week. Rest in power Michael C. Hudson — a teacher, scholar, and mentor to many of us. We will miss you, Abu Leila.
Laila Shereen Saqr
Very saddened by the news of Michael C. Hudson's passing. He was my professor in grad school at Georgetown and director of CCAS for many years. He was also a mentor to me personally and an exceptionally kind person. He will be missed. RIP Abu Leila.
Khaled Elgindy
Michael Hudson impressed me on all fronts. In Spring 2004, it was he who delivered the phone message that I had been accepted into the MAAS program — a phone call that turned out to be life-changing. At the time, Michael led the Center for Contemporary Studies with Judith Tucker, and I felt that we, as their students, were in tremendously good hands: challenged and supported by faculty who were outstanding in their fields and in their dedication to their students and colleagues. It has been sixteen years since my last class with Michael Hudson. Yet I have kept, and carried with me through many moves, every reading he assigned. I also remember vividly the kindness and grace with which he would engage his students and alumni in conversation beyond the classroom. As a scholar and as a person, he has set an example that will continue to inspire so many of us.
Katrien Vanpee
MAAS alumna (2007)
I was one of the earliest MAAS students and I had the privilege of working directly with Mike as his research assistant and also traveling to Amman and the West Bank with him and a group from CCAS on a Jordanian-sponsored visit. On that trip, Mike got a haircut in the hotel and commented that it was the most expensive per-hair barbering he had ever had! Today, with my own hairline now looking much more like his, I can appreciate his comment even more. 🙂 I will miss his smile and his warm sense of humor.
John Alexander
MAAS 1981
I last met Michael in Lebanon, during the elections of 2004, as an election observer with the Carter Foundation, led by Jimmy Carter and his wife. Michael and I became a team and observed the elections up in the mountains. When we were somehow through with our work, we decided you could not come to Lebanon without going to Chtaura and eat a labaneh sandwich with olive oil and dried mint. Our Lebanese colleagues first refused, arguing that Chtaura was not part of our observation region. But Michael and I insisted and sort of made them come with us to Chtaura where we had these delicious sandwiches! Very sad to hear Michael was ill and had to go far too early. My condolences to his family! I will certainly never forget the meetings and discussions with Michael, at AUB, at several MESA conferences, and last in Lebanon and in particular in Chtaura!
Helga Baumgarten
Birzeit University in Palestine
I was star-struck when I got a voicemail 20 years ago from Dr. Hudson welcoming me to the MAAS program. During my time at CCAS and in the Government Department (2001-08), we engaged regularly – in and out of class – and I will forever reflect fondly on his encouragement and advice. Thank you, Dr. Hudson – for everything.
Charles Kiamie
MAAS 2004, Ph.D. Government 2008
Dr. Michael Hudson was a giant in his field. His contributions were always top notch. He left us too soon. His influence on his many students will be felt for decades to come.
Dr. Paul Sullivan
I knew Mike from when I was a grad student at Georgetown in the Arabic Department, and I remember visiting him and Jack Ruedy in the first CCAS office in the Walsh building, probably in the 1970's. Mike was always supportive, friendly, and considerate, and understood the value of Arabic language skills for the CCAS students. As I moved from Georgetown to the State Department, and then back to Georgetown, Mike was a rock I could depend on for advice, counsel, and support. He was a consummate administrator and program leader, and I will sincerely miss him, his wisdom, and his gentle smile.
Karin Ryding
Professor Emerita, Georgetown University
For decades (and well before social media), Michael was a courageous and sought-after voice of reason, offering expertise and influence to help balance biased media and policy-making when it concerned Palestine, Lebanon, and the region. In the truest sense, he was a humanitarian, in addition to esteemed political scientist, professor and mentor whose influence continued throughout our careers. As students, the dinners that Michael and Vera hosted at their home were legendary; we would sit tightly packed around their dining table, engaging with Arab thought leaders, including Amb. Clovis Maksoud. I had the privilege to reconnect with Michael in recent years at CCAS and as a fellow board member of ANERA, where his humanitarian commitment was recognized and appreciated. We are so very fortunate to have had the presence of Michael and Vera in our lives. I extend my heartfelt condolences to the family.
Jeffrey Ghannam
CCAS Adjunct Assistant Professor and MAAS alumnus
There were many kind, decent, devoted staff and professors that I met while at Georgetown — but there was something extra-ordinary about Professor Hudson; there was a fierceness to his intellect, but also a purity to his demeanor (he was proof that those two can go together) and he was so welcoming and encouraging. What I remember most is that he never hesitated to acknowledge a good, or interesting idea, no matter who it came from; even a grad student like me. I took his seminar on Lebanese politics and loved it, it was a highlight of my time there. My condolences to his family, from a grateful student.
Martha Cooper Bezzat
I had the privilege of having Michael Hudson as a senior colleague for nearly a decade and the added privilege of having him as a close friend even longer. I first met Mike in 2001 when I began teaching at CCAS as a recently minted PhD. At first, it was a bit intimidating to have Michael as a colleague, particularly as someone working in the same field. As many have noted, Mike's work on Arab politics – particularly his books "The Precarious Republic" and "Arab Politics" – were established classics that had a big impact on the study of Arab politics (His later work on democratization, US foreign policy toward the Middle East, and Arab regional politics, were also widely read and influential, appearing mainly as articles and in edited volumes).
But any anxiety about working with a giant in the field soon dissipated as a result of Mike's warm demeanor and inviting personality. For just as Mike was a brilliant scholar, more importantly for me, he was a wonderful person: gracious, exceptionally kind, witty, and uncharacteristically humble by any measure, but especially for an academic, and one of his stature.
Soon enough Mike invited me to his home for dinner where I met his wonderful wife Vera and proceeded to clumsily break a beautiful antique wine glass. The consummate hosts, Mike and Vera quickly put me at ease, simply bringing out another glass, and assuring me not to worry. Needless to say, the food at the Hudson's was always delicious and the company immensely enjoyable. This would only the be the first time I had the pleasure of dining at the Hudson's and on many other occasions, Mike would invite his entire graduate seminar for dinner at the end of the semester.
I also had the distinct pleasure of co-teaching with Mike for a number of years. Immediately after 9/11, Mike and I decided to design an undergraduate course examining America's historical and contemporary relationship with the Middle East that went beyond the usual topics of "terrorism," "Islam," and "national security." Entitled "The US, the Middle East, and the 'War on Terrorism,'" the class was an immediate hit with students (also drawing the attention of NPR and the FBI). Mike and I taught the course together for a number of years, although I don't know who benefitted more, our students or me, from listening to Mike's erudite lectures and hearing about his experiences in the region.
Teaching with Mike also had other benefits. It meant I regularly had the pleasure of having lunch with him, usually at the Tombs, the local university haunt, to do course planning. Mike usually ordered the Reuben but not without remarking that he really should be ordering a salad.
Mike was a brilliant scholar but he was simultaneously deeply engaged in the public discussion about the Middle East and the United States – through his writing, his institution building, and his public engagement in the form of frequent television and radio appearances and media interviews. His passing is a tremendous loss for CCAS, the field of Arab and Middle East studies, generations of his students and colleagues, and the pubic discussion about America and its relationship to the region.
Samer Shehata
Michael welcomed students into the community that he built with his colleagues, even if we didn't take courses with him. He was a kind and caring mentor. Many years later we enjoyed a lovely evening with him during a visit to Beirut. My condolences to his family.
Jim Reilly
Former student
Michael Hudson was a great scholar of Middle Eastern politics who as CCAS's inaugural Director built a strong an d groundbreaking program there. He was still its Director when I first came to work in the United States in 1982. When I came to the U.S., I initially had a Senior Fellow position at Harvard's Center for International Affairs, with the goal of writing up some of my notes from my time as a journalist in Beirut into what would become my first book, "The Palestinian Liberation Organisation". But to be honest, I found Harvard pretty unwelcoming to me and my project (and the weather in Cambridge MA quite unbearable in January!) Mike helped arrange for my position and its not-huge funding to be transferred down to Georgetown, where he and everyone at CCAS gave a super welcome to me and my project. I have many happy memories of my time at CCAS, and of the friendship that Mike and his feistily Palestinian-American wife Vera offered to me and my family.
Much later, in late 2015, Mike was one of the inaugural members of the board of Just World Educational, though he resigned a few years ago for reasons of ill-health. A few weeks ago my husband and I received a card from him telling us he had been diagnosed with a cancer that sounded pretty scary, though the card's tone was characteristically upbeat and cheery.
I will miss him deeply. I wonder what he would have thought of the present huge upswelling we're seeing here in the United States in support of Palestinian rights??? Mike, wherever you are, know that your legacy lives on.
Helena Cobban
Writer, researcher, CEO of Just World Books
The strong base of knowledge that I gained in Professor Hudson's classes is still something that guides my work today on humanitarian and development issues in the MENA region. In addition to the great breadth of experience that he brought to his work and teaching, he was also such a welcoming presence at CCAS. I fondly remember him hosting students at his home on a number of occasions, where he shared so many rich stories and memories about his time working in and studying the region. My deepest condolences to his family.
Kari Jorgensen Diener (MAAS, '03)
When I debated going on to graduate school to focus on Arab studies, I concluded that I would only do so if I could study under Michael Hudson. No Hudson, no reason to go. I was elated when I was accepted to CCAS. I took every class that he offered and benefitted immensely from each. I really got to know him, however, when I served as GU Control for the GU-UT-University of Melbourne simulations. Oh, the hours of work and the hilarity that ensued with Mike, Clem Henry, and Andrew Vincent! I am honored that Mike became a life-long friend as well as a mentor, and I will miss him so much.
My favorite memory of Mike is of the first time I attended the open house that he and Vera would host each year for the CCAS students. On a shelf was a small black-and-white photo of an adorable baby with big, sparkling eyes. I asked if it was a picture of him, and he said yes. "Did you know that I was almost the Gerber Baby? I was chosen, but my mother was strongly against it because she thought it would 'warp my personality.'" Then, he sort of stood back, with a big smile and that famous twinkle in his eye, as if to say "She didn't ultimately save me from that fate, did she?"
Leila and Aida, my heartfelt condolences for the loss of your wonderful father. He will be missed by everyone who knew him!
Michele Kjorlien Esposito
Former Executive Director of the Institute of Palestine Studies, USA; CCAS 1994
I had been downtown to meet a man who had studied in Beirut in the 70's and who had a private collection of posters he wanted to donate to the PPPA. We met at his office and because he was running late for another meeting there was no time to unroll them or get the backstory so I thanked him and headed for the Metro station at Dupont Circle having no idea what was inside the roll of posters. On the platform I ran into Dr. Hudson and we fell into conversation. I told him where I had been and what I was holding in my hands and he said: "Let's have a look" but just then the train pulled in and all of humanity got on and off including us. Amazingly, we both got seats and immediately began unrolling posters and translating them right there on the train. Neither of us looked up as we were both excited because we knew we were seeing Palestine posters that had not been seen for decades and we were both deeply engrossed. After about the fifth poster I happened to look up and every single rider was looking at us in silent amazement. I said to Dr. Hudson "I think we are the center of attraction" to which he said, looking at the other riders, "Think of it as taking Arab Studies to the masses" and we just went on merrily unrolling and translating till it was time to get off.
He was the first person to suggest I apply to Georgetown. He had been supportive of my interest in Palestine's posters even 30 years ago when I was working Liberation Graphics full time. He was the one who invited me to present at CCAS after a Washington Post article about my work was published and who recommended I register for some Continuing Education courses as the way to strengthen my application. Just about every single contact I had with Dr. Hudson was productive, educational, interesting and to some degree, life changing. I felt lucky to know him.
Dan Walsh, MAAS '12
Michael was a friend and colleague, someone for whom I had enormous respect and admiration. He was a brilliant scholar and a profoundly decent human being. Although I wish our paths had crossed more often than they did, it was always such a pleasure to interact with him. His presence made a difference in our troubled world and one that will last. My heartfelt condolences.
Sara Roy
Dr. Hudson was key in my joining CCAS in 1982. I enjoyed very much studying with him and staying in touch afterwards. Today I head UNRWA in Lebanon and as the country slowly disintegrates I can see even better the meaning of precarious republic, with Palestinians among those most exposed to the hardship being visited on the country. It was my experience of Lebanon in the 1970s that brought me to CCAS, and now that I am back in a different incarnation I appreciate even more my years at Georgetown and my time with Dr. Hudson. With gratitude and a renewed commitment to pursue his legacy.
Claudio Cordone
CCAS 1984 graduate
Mike was one of the finest humans I ever knew. An wise boss, kind colleague, and wonderful friend.
Gail Witman Griffith
I was the first hire that CCAS made as an administrator of its brand-new MAAS program. Mike, along with Jack Ruedy, interviewed me on a frigid day in January 1978. It was so cold the Potomac had frozen and people were walking between Rosslyn and Georgetown on the river. I was broke and had had a bad cold since November. As I was exiting the interview, Mike prepared to help me on with my coat, a thin, worn, wool plaid. When I put my arm in the sleeve, the stitching gave way and the sleeve detached from the rest of the coat — much to our mutual astonishment. I looked up at Mike and said, "I really NEED this job." He said, "O.K., when can you start?". It was the beginning of a long-career at Georgetown — the highlight of which surely had to be the time I spent under Mike's tutelage. He was kind and funny, decent, and erudite. I loved that he loved Gilbert and Sullivan (I didn't); I loved that he loved his girls (I loved them, too ) and that he shared their exploits with the rest of us, including their early fictional compositions ("The Adventures of Julie R. Rock." ). His love for Vera was profound and so evident when you were in their company. I loved his laugh and self-deprecating humor. And I loved his upright moral stance on all things Palestinian. What a gift he was, as a mentor — and then as a friend, lo — these many years. I will miss him.
Gail Griffith
Mike Hudson was our dearest neighbor. To so many of his colleagues and students, he was a deep listener, writer, educator and mentor, but to us he was a wonderful friend and neighbor who was ready to welcome us with a beer, a great bourbon drink and some pizza on any given day. He was a rose lover, a jogger, a beach lover, news junkie and a fabulous story teller. Our lives changed for the better the day we moved in next door to the Hudsons. God Speed, Mike.
Nancy and Martin Wiegand
I recall a funny story that showed Michael's playful spirit. In the fall of 1984, some young people at Georgetown – MAAS students and CCAS staffers – held a "Bondage and Discipline" party at an apartment in DC's Glover Park neighborhood. Attendees were encouraged to dress for the occasion. Michael and Vera showed up…tied up together! Such good sports. I'll never forget that or Michael's overall impish sense of humor that broke through the straight-laced academic appearance that he often affected.
Michael R. Fischbach
Former MAAS student (1984-86) and CCAS history doctoral fellow (1987-92)

I was deeply saddened to hear of the passing of Dr. Hudson. I felt like I lost a family member because of his presence in my life during my studies at Georgetown at CCAS, where he was my advisor and later on as a Board Member of the Rene Moawad Foundation where I serve as Executive Director. Dr. Hudson was indeed a giant in his field and left an indelible mark on the course of Arab studies. I always loved his humor and his genuine love for that region and its people. One of my favorite memories was at his home where he always gathered CCAS students over a delicious spread of food; I was teaching the group the dabke, the Lebanese/Syrian/Palestinian (Levantine) Folk dance. He could never kick that left foot and after constant reminders he said with a twinkle in his eye: "You know I am allergic to anything left"! He will be deeply missed; my deepest condolences and that of the Rene Moawad Foundation family to his daughters. May he rest in peace!
Nadia Abourizk-Asaad
When I arrived at Georgetown in 1983, I was still a relatively new immigrant from Iraq, hardly had any money, and hardly knew anyone in DC. Professor Hudson received me with that amazing smile of his and immediately made me feel welcome. He played a major role in creating a climate for graduate students (especially those from the Arab World) to have vibrant intellectual exchanges inside, but more importantly outside the classroom. I shall always remember him with fondness and a strong sense of gratitude.
Thabit A.J. Abdullah
Former MAAS student

On behalf of my husband Dr. Ibrahim Oweiss and my entire family, I would like to extend our sincere condolences to the Hudson family. His leadership propelled the Center for Contemporary Arab Studies' impact and outreach to a whole new level due to his commitment to the Center's cause. He has been a wonderful friend and colleague, and we owe a deep level of gratitude to Michael's presence there. We will miss Michael dearly and he is forever in our hearts.
Celine Oweiss
I am very sorry to hear of Dr. Hudson's passing. I will remember him for his kindness to me and his interest in me as a new student freshly arrived in the United States. At the end of my two year studies, he celebrated my passing my exams by taking me to Tombs. He toasted my success over a glass of a soft drink. He knew I was not going to drink wine so he accommodated me. His seminal book on search for Legitimacy in the Arab world is in my opinion still germane.
Safia Kadir
Former student
I had the privilege to study under Professor Hudson during the Gulf War 1991 period. His presence, intellect, and brilliance was felt in person and when he was on the media. He was one of my three professors on the oral comprehensive exams. He asked me what I would advise the sitting U.S. president about how to manage Middle East affairs spanning political, economic, refugee, business, and major historical geographical disagreements. His expectations in his students for high-level scholarship were very high. He designed our interdisciplinary program. I did not appreciate how extraordinary a man he was until now and I send my kind condolences to his family. They should be immensely proud of his accomplishments. I would like to ask if I could be invited to one of the celebrations to his legacy.
Brian Lepak
MAAS 1992
If you would like to submit condolences to be shared on this page and with the Hudson family, you may do so here.