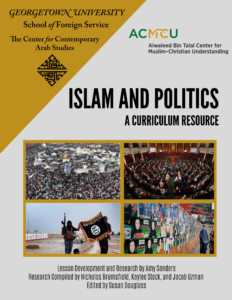 The Education Outreach program at CCAS, with support from Georgetown's Alwaleed Bin Talal Center for Muslim-Christian Understanding (ACMCU), has produced a new teaching unit titled Islam and Politics: A Curriculum Resource, for high school teachers of world history, world geography, U.S. history and government, and regional studies courses. The teaching unit presents critical moments and influential religious leaders in the nineteenth and twentieth centuries, when Muslim societies all over the world were undergoing rapid changes.
The initial impetus for creating Islam and Politics: A Curriculum Resource came in 2018 when Maryland education officials added new curricular requirements for teaching about Islam and politics at the 9th and 10th grade levels. According to state academic standards for secondary world history and geography, at least 30 states and the District of Columbia have similar requirements to teach about Islam and politics and closely related topics. Despite this requirement, "few teachers are aware of, or have access to sources about the long history of debate around ideas of reform and the role of religion in Muslim societies," said CCAS Education Outreach Coordinator Dr. Susan Douglass. Given that textbooks change very slowly, CCAS and ACMCU prioritized creating a curriculum unit for teachers to ensure that they can provide historical background and case studies on the variety of expressions Islam and politics today.
"While the role of Islamic religion in contemporary Muslim societies has been covered in modern world history courses, it has been poorly understood and generally framed in unhelpful binary terms such as 'tradition' and 'modernity,'" added Douglass. "The focus on terrorism since 9/11 and the emergence of ISIS and other radical extremists has made the need to differentiate among groups, the terminology for discussing them, and to understand the variety of expressions of Islam and politics across the Middle East." CCAS Director Professor Rochelle Davis believes that one of the strengths of the unit is that it gives teachers the opportunity to teach using primary source material. "Teaching students how to analyze images and texts helps them to understand how to be better consumers of information more generally, as well as to be able to know fact from fiction and the context behind world events.".
Islam and Politics: A Curriculum Resource will serve as a valuable teaching resource for high school educators as they fulfill their state curriculum mandates. "This curriculum aims to move beyond headlines related to extremism and help students gain a more nuanced understanding of Islam and politics in the Middle East and North Africa," says Amy Sanders, who wrote the unit. "The lessons provide important historical context, explore Islamist movements in several countries, and give students insights into perspectives shared by Muslim scholars and leaders who speak out against violence and extremism."
Ms. Sanders—an experienced curriculum writer, veteran high school social studies teacher, and current teaching fellow at Brown University's Choices program—received editorial guidance from Dr. Douglass and valuable research assistance from MAAS alums Nicholas Brumfield ('17) and Kaylee Steck ('18), and student Jacob Uzman ('20). The final unit was reviewed by Dr. Peter Mandaville, a scholar of the comparative study of religious authority and social movements in the Muslim world, and further refined based on teacher feedback during a workshop at CCAS. The project was made possible by a U.S. Department of Education Title VI grant that designates Georgetown University as a National Resource Center on the Middle East and North Africa (NRC-MENA).
"The lessons in this curriculum engage students through the use of multimedia resources, guided readings with accessible language, and primary source and image analysis," says Ms. Sanders. "We hope these lessons will foster students' critical thinking skills and spark dialogue in classrooms."