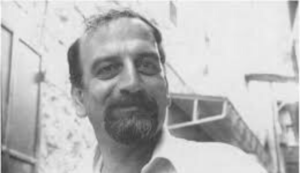 The CCAS community was deeply saddened to learn of the passing of Albert Aghazarian, a renowned scholar and activist, and the first graduate of the Master of Arts in Arab Studies (MAAS) program at CCAS.
Mr. Aghazarian was born in 1950 in the Armenian quarter of Jerusalem. He earned his BA in political science at the American University of Beirut before coming to Georgetown in the late 1970s and enrolling in the newly established MAAS program. After completing his coursework early and becoming the program's first graduate in 1979, Mr. Aghazarian returned to Palestine to teach history and cultural studies at Birzeit University. In 1980, he became director of the university's public relations office—a position he held for more than 20 years and leveraged to defend and advance Palestinians' rights to quality education and academic freedom.
Mr. Aghazarian, together with Dr. Hanan Ashrawi, led the Palestinian delegation's media efforts at the 1991 Madrid Conference. Following Mr. Aghazarian's death, Dr. Ashrawi wrote, "With great sorrow, we mourn the loss of one of the most distinguished historians in Palestine, Albert Aghazarian. Albert was indeed a great symbol in Jerusalem with a significant presence. He will be remembered for his tireless efforts to advance our people's cause for freedom and justice."
Dr. Michael Hudson, professor emeritus and former director of CCAS knew Mr. Aghazarian as a student at Georgetown. "I was so sorry to learn of the passing of Albert Aghazarian," said Dr. Hudson. "What a talented, erudite, principled, and charming man he was. He was proud to be the very first graduate of the MAAS program—and certainly became one of its most distinguished."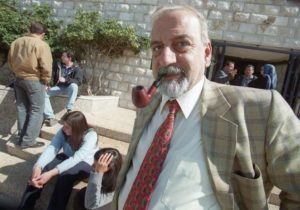 Mr. Aghazarian was also a well-known historian of Jerusalem, and often led educational and historical tours through the old city. "Jerusalem was his love and his passion, and he became well-known for his historical and archaeological tours of the city, in which he revealed encyclopedic knowledge," added Dr. Hudson. "One of my happiest memories was visiting him and Madeleine in their lovely house in the Armenian Quarter, where we had lengthy discussions about Jerusalem, the Middle East, politics and philosophy. He was indeed the shaykh, the ustaz, of the Holy City. He touched the lives of so many people. May he rest in peace."
"He is a son of Jerusalem," wrote Dr. Ashrawi, "and the streets of the old city will continue to echo with his voice and erudite persona."
The CCAS community extends our sincere condolences to the family and friends of Mr. Aghazarian.