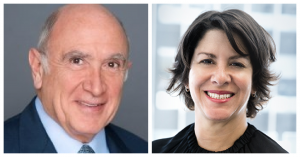 The Center is pleased to announce that two members of CCAS Board of Advisors have been named 2021 Georgetown Alumni Service Recognition Award honorees for their outstanding leadership and service to the University. Laurie Fitch has received the 1820 Graduate Award, and Peter Tanous has received the William Gaston Alumni Award. Ms. Fitch graduated from the MAAS program in 1994. She is now a partner at PJT Partners and has chaired the CCAS Board of Advisors since 2015. Mr. Tanous earned his BA in economics from Georgetown in 1960 and is currently the Chairman for Lynx Investment Advisory, LLC. In addition to his service to our own board, Mr. Tanous serves on the University's Investment Committee and the Georgetown Library Board.
These awards, designated by the Georgetown University Alumni Association, honor "individuals who embody the Jesuit ideal of living generously for others." This could not be a more apt description of Ms. Fitch and Mr. Tanous, each of whom have created endowments to provide scholarships to graduate students at the Center. These scholarships have been critical to the academic careers of the students who receive them each year.
Marcos Gonzales, current student and recipient of the Laurie Fitch Scholarship Endowment, shared what this scholarship has meant to him: "Having grown up in rural Spain, when my family's support was not enough to meet my academic and professional ambitions, I was fortunate to count with the support of friends, the federal administration, and even foreign governments. Without this scholarship support I would not have been able to resume my studies after the breakout of the pandemic forced me to go back to Spain. It is my hope to put to service the financial help that I am receiving today and be a vector of change for other people. Even if I do not know them."
David Balgley (MAAS '20) is a former recipient of the Tanous Family Scholarship and is now pursuing a PhD in Development Sociology at Cornell. He wrote: "The generous funding I received from the Tanous Family Scholarship gave me the time to focus on my own research and studies, allowing me to attend conferences and build my academic network as I applied to PhD programs and wrote my thesis. The flexibility provided by the scholarship greatly enriched my experience in the MAAS program and helped facilitate opportunities to pursue a career in academia after graduating."
It is rare for two members of the same board to receive such distinction in the same year. This speaks loudly about the caliber of our board members who generously share their time, talent, and resources with the Center. You can read more about Ms. Fitch and Mr. Tanous, and all members of our board here. Congratulations to Ms. Fitch and Mr. Tanous!