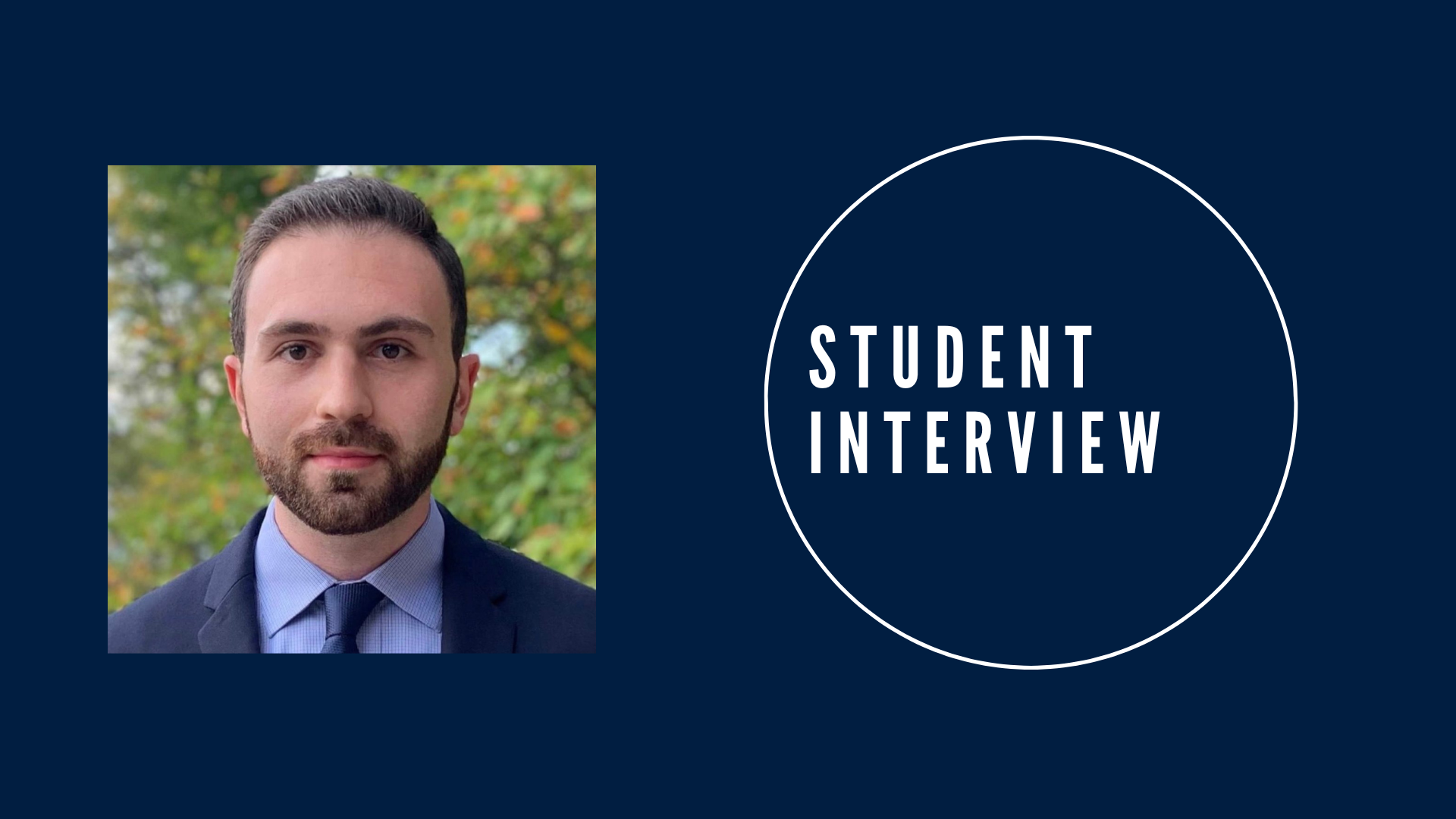 In this interview, Coco Tait speaks with current student Avraham Spraragen, who is pursuing a dual M.A.A.S./J.D. degree at Georgetown School of Foreign Service and Georgetown Law. He was selected by the Law Center as a Global Law Scholar and intends to serve as a Human Rights Associate at the Georgetown Human Rights Institute.
1) Please tell me about yourself. What are your professional interests and what has the evolution of your early career looked like?
Devastated by the tragedy of the 2014 Gaza War, I deferred my acceptance to Cornell University the following year to study at the Hebrew University of Jerusalem. In shared Arab-Jewish classrooms atop Mount Scopus (جبل المشارف הר הצופים), overlooking the Israeli separation wall, I studied the history and politics of regional injustices. I also witnessed injustice firsthand: As an American Jew at Hebrew University, my daily commute from the Student Village was a mere ten minutes, whereas my non-Jewish Palestinian Arab peers often waited hours at Israeli checkpoints on their way to class. Determined to assist in remedying this injustice, I have dedicated myself to the pursuit of a career in Middle East diplomacy, human rights and refugee law. During my 2016-17 gap year, I visited the Israeli Ofer Prison in the occupied West Bank. Faces of Palestinian children under administrative detention are forever etched in my memory and motivate my quest for Middle Eastern justice.
I continued in my study of the region at Cornell, where I majored in Government with a double minor in Near Eastern Studies and History. I also studied Middle East history and politics at Cornell in Washington, Tel Aviv University, and the London School of Economics. Upon graduating from Cornell in December 2021, following a renewed cycle of violence from the River to the Sea, I spent my six months before Georgetown studying Arabic in Amman, Jordan. During my half year in the Jordanian capital, I studied Levantine colloquial Arabic while immersing myself in local culture, traveling the country widely, and developing lifelong friendships. As a fluent Hebrew speaker in the Arab world, I discovered the many similarities between the Semitic languages. Furthermore, as a Jew in the Arab world, I discovered the tremendous untapped potential for Arab-Jewish partnership, as well as the many similarities between the Abrahamic traditions. I also crossed over the Allenby/King Hussein Bridge to organize with Zochrot (ذاكرات זוכרות) in the city of Lydda (לוד اللد) to promote awareness of the Palestinian Nakba. In addition to my Arabic study in Amman, I worked on campaigns to "Stop the Evictions" and "End the Expulsions" in Masafer Yatta, Sheikh Jarrah, and the Naqab. These experiences are what brought me to the Center for Contemporary Arab Studies. Through the Master of Arts in Arab Studies program at Georgetown, I hope to develop Arab-Jewish partnership for justice in the Middle Eastern region.
2) Can you discuss some of the issues that you are most passionate about now? How are you able to balance (or incorporate) them as you pursue your joint MA-JD degree?
In my first year of M.A.A.S., I will have completed the elective courses, Palestine Today and Palestinian Politics, enabling me to continue concentrating on this issue, while expanding my knowledge of the wider Arab world through foundational/core Arab Studies courses. I am also continuing with my intensive Arabic language study at Georgetown, focused on the critical reading and writing skills. The Center for Contemporary Arab Studies is supporting my Arabic study with a foreign language scholarship, in partnership with the NaTakallam online language tutoring service delivered by refugees. During summers of graduate school, I will be returning to the Arab world for continued Arabic language study, political/legal activism, and cultural immersion. Furthermore, in my first semester at Georgetown, I committed to the completion of a School of Foreign Service Graduate Certificate in "Refugees, Migration and Humanitarian Emergencies" at the Georgetown Institute for the Study of International Migration.
Concurrent with my graduate studies, I have taken on leadership positions at the student organizations, Georgetown Middle East and North Africa Forum (Editor-in-Chief), Georgetown Journal of International Affairs (Editor-at-Large), and Georgetown Migration and Refugee Policy Initiative (Editorial Associate). At the MENA Forum, I highlight regional human rights issues in the weekly Forum newsletter and at the Journal, I publish articles about Middle Eastern human rights developments. Through my SFS Graduate Certificate and McCourt School Refugee Policy Initiative position, I am incorporating my passion for refugee issues into my dual degree. Moving from New York to Washington has also enabled me to combine my graduate degrees with public service and relevant professional experiences. In Fall 2022, I served as a legislative intern for my NY-04 Congresswoman and in 2022-23, I am serving as a Student Ambassador of the International Institute for Strategic Studies. In Spring 2023, I will be serving as a Student Trainee at the United States Agency for International Development. I have sought to take advantage of the many international career opportunities of our diplomatic capital, in the service of Middle Eastern conflict and human rights abuse victims.
After my first year of M.A.A.S., I will be a 1L student at the Georgetown Law Center, where I plan to focus on international human rights and refugee law, with a regional concentration on the Middle East. I was selected by Georgetown Law as a Global Law Scholar and intend to serve as a Human Rights Associate at the Law Center Human Rights Institute. The legal expertise I acquire through my J.D. will complement the regional knowledge I acquire through my M.A., thereby propelling me into a profession at the intersection of international law and diplomacy in the Middle East.
3) What does Arab-Jewish partnership mean and how can it be advanced?
Arab-Jewish partnership, which I hope to advance as a Jewish student at the Center for Contemporary Arab Studies, is a shared commitment to justice and equality, from Washington to the Arab world. It is also a movement for the mutual appreciation of Arab and Jewish cultures, and for the mutual understanding of Arab and Jewish historical and contemporary struggles. I am inspired in my work to advance Arab-Jewish partnership by the leading grassroots organization of Arabs and Jews in the Middle Eastern region, Standing Together (עומדים ביחד نقف معًا). This social justice organization strives for an end to Israeli military occupation on the path to a shared Arab-Jewish future. The "co-resistance" mission of Standing Together is carried out in Arabic and Hebrew, the former being the language that I have come to adore through study and the latter being the language of my heart. Standing Together also emphasizes the importance of recognizing common Arab-Jewish humanity, dreams and aspirations in order to forge a shared future.
My six months in Jordan demonstrated the endless possibilities for this joint partnership; I developed lifelong Arab-Jewish friendships rooted in a shared appreciation for the remarkable similarities between our two cultures. My Arabic teachers in Amman delighted in the comparisons I drew between Arabic and Hebrew. Iftar dinner guests on Ramadan were similarly fascinated by the likeness to Jewish tradition. Furthermore, the return of Jewish life to the Gulf and North Africa, from the creation of the "Alliance of Rabbis in Islamic States" to the introduction of Jewish history into Moroccan curricula, is reason for hope. I was also deeply encouraged by the recent opening of the first Holocaust memorial exhibition in the Arab world, "We Remember," at the Crossroads of Civilizations Museum in Dubai. I am hopeful that this Jewish revival will one day happen in the Levant as well. Meanwhile, the Master of Arts in Arab Studies provides a space for Arabs and Jews in the diaspora to come together for the advancement of common dreams and aspirations, through meaningful study and social justice activism. I hope to spend the four years of my dual degree at Georgetown doing just that.
4) What are your aspirations post-graduation? Is there anything you want to say to your future self?
After my four years at Georgetown, I hope to obtain a doctorate in a relevant field, before joining the international diplomatic/legal workforce. As the son of two educators (my father in Judaic Studies and my mother in Holocaust Studies), I was raised with the values of higher education and the pursuit of knowledge. My childhood home was full of books and newspapers, weekends during my upbringing were spent in libraries and museums, and my siblings and I were taught multiple languages and the importance of multicultural exchange. As such, I aspire to become a Ph.D. and to ultimately return to academia. However, before returning to the academy, I will be dedicating my career to the protection of Middle Eastern conflict and human rights abuse victims. My Georgetown M.A.-J.D. will enable me to seek employment in a U.S. government agency, international organization, and/or judicial institution that works on regional humanitarian issues. To my future self, employed in such a capacity, I would say the following: Do not forget the values that your parents instilled in you; never abandon your principles, compromise your morals, or lose sight of your commitment to global public service.
Coco Tait is the CCAS Events and Program Manager.