An interview with the report's author, CCAS Visiting Researcher Salma Al-Shami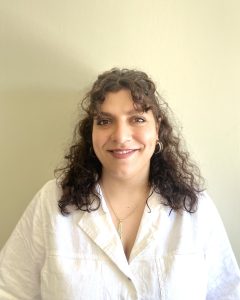 By Besan Jaber
Food insecurity in the Arab World is particularly complex, particularly when taking into consideration the number of threats to the region's stability. Conflicts, limited arable land, water scarcity, climate-related shocks, high levels of food import levels, economic shocks, global food crises, fluctuating oil prices, and lastly, the COVID-19 pandemic, have all contributed to a stressed food system in the region.
A recent report by the Arab Barometer on food security in the MENA published in English and Arabic discusses the alarming food insecurity rates. The report was prepared by Salma Al-Shami, a visiting researcher at CCAS and the director of research at the Arab Barometer. Al-Shami has more than ten years of experience conducting mixed-method academic research and needs assessments and monitoring and evaluation efforts on various topics, including inequality, migration and displacement, social cohesion and integration, and knowledge-based economies in the Middle East and North Africa.
The Arab Barometer report utilizes nationally representative data collected between 2021 and 2022 through face-to-face surveys in ten countries: Egypt, Iraq, Jordan, Lebanon, Libya, Mauritania, Morocco, Palestine, Sudan, and Tunisia. The surveys collected opinions and attitudes about economic, political, and social issues affecting the participants' countries and the region, finding that "in six out of ten countries, majorities from 53 percent in Libya to 68 percent in Egypt report that they ran out of food before they had money to buy more." In Jordan and Lebanon, about half of all citizens report the same. Al-Shami kindly answered a few questions about the report's findings and the importance of drawing attention to food insecurity in the region. 
Jaber: What are the long-term risks and consequences of food insecurity in the Arab world? What other social structures and aspects of life does the report take into consideration for a deeper understanding of the long-lasting consequences of food insecurity?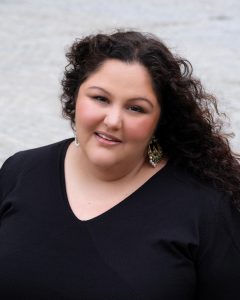 Al-Shami: The report only skims the surface, but, most importantly, it illustrates how the problems associated with food insecurity are potentially unbounded.  Food insecurity itself can become life-threatening, as it impacts multiple physical and mental health outcomes, which in turn have an effect on life expectancy. And the causes and consequences of food insecurity can become one and the same. For example, conflict, specifically protracted and armed conflict, leads to food insecurity as violence disrupts livelihoods and supply chains and forces people to flee from their homes. But food insecurity can also lead to conflict if or when scarcity systematically and disproportionately affects some groups more than others.
More to the core of the report, though, is that food insecurity is inextricably linked to multiple other challenges confronting the Middle East and North Africa region right now. For example, women in several countries report experiencing food insecurity more than men, and this is related to imbalances in workforce participation.  Pollution, water scarcity, and climate change have all affected access to food, but those who are food insecure are less likely to want their governments to do more to combat climate change.  As such, because food insecurity intersects with several other adverse developmental outcomes and challenges, which, notably are not unique to the MENA region, the full extent of the long-term consequences of food insecurity are not so easily enumerated. Instead, the report aims to use food insecurity as a lens through which to view these multiple other challenges, and by doing so suggests that it's not just about duration or the long-term consequences, but also the breadth of consequences of food insecurity that is important to consider. 
It is worth noting that the vast majority of data was collected before the war in Ukraine, except for Morocco where the data collection was completely gathered after the war started. In Sudan and Jordan, the data collection in the field started a month before the war started. In other words, most of these rates in the report are most probably quite worse now. The consequences of the COVID-19 pandemic have left harmful economic effects regionally and globally and the short and longer-term effects of it have not yet been fully realized. 
Jaber: Which country provided the most surprising findings on food insecurity,  and why? What are the implications of the findings in the near future?
Al-Shami: In six out of ten countries, a majority of all citizens said that they often or sometimes ran out of food before having money to buy more. In an additional two countries, it is just about half of the population. This is shocking when juxtaposed with countries that are often deemed middle-income countries. It invites us to ask what we mean by "middle-income countries," as it seems there is a divide or a gap between the experiences of citizens on the one hand and the macrostructural economic assessments on the other. Middle-income countries as an economic classification do not mean that most citizens are middle-income citizens. 
Another surprising finding relates to the consequences of the COVID-19 pandemic, which did have an effect on food security in the region. But when asked what was the biggest impact of COVID-19, not all citizens directly pointed to economic factors. In Egypt, Jordan, Lebanon, Mauritania, and Egypt, many reported economic effects, such as inflation and loss of livelihoods, but respondents in Iraq reported the impact on education as the biggest factor. In Palestine, respondents reported disruption of social life as one of the main impacts pf the pandemic. As such, what we are seeing is that people do not necessarily attribute the outcome of food insecurity directly to COVID-19, or even to climate change, as I mentioned before. To what or whom the public attributes worsening conditions—that is, the causal lines leading to outcomes— are not necessarily clear given the complexity of the problems. 
Additionally, the report is useful in understanding the linkage between food insecurity and other forms of identity politics; the structural relationship between food security and access to healthcare and education resources is essential but also its relationship with socioeconomic class formation is equally essential to the understanding of the region.
Jaber: In your report, you also discuss data on poverty and human development in the region (mentioning, for example, that poverty rates in the region increased rapidly between 2010 and 2020, but while other reports show high levels of human development on average. How do we read and understand these findings? 
Al-Shami: The data tell us stories that differ from those captured in economic assessments such as the World Bank income classification levels and the Human Development Index. What we see is that countries that have high rates of food insecurity are also deemed as higher middle-income countries or have high levels of human development. This report puts individual-level data in conversation with macrostructural assessments  to invite a discussion about the different ways of measuring development. It is not a matter of comparison between other types of data out there, but it is to challenge or question perceptions about the counties in the region.  Jordan is a good example. The economy has been described and thought of as relatively strong or resilient. However, the results from Jordan are alarming and show that 48% of people, just about half, reported that they often struggle to keep food before having money to buy more.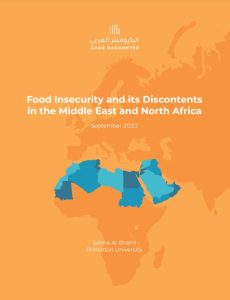 Jaber: How does the report interpret the data for cross-cutting issues across the MENA region while ensuring an understanding of individual countries and avoiding essentialization them? 
Al-Shami: The data tell us that while the problem of food insecurity is a regional one, its consequences and its effects are more localized. On one hand, we need to understand the factors related to food insecurity—and they are many, "including but not limited to livelihoods, agricultural production, food import policies, supply chain (mis)management, political corruption, internal and external migration, climate change and natural disasters, and fiscal, monetary and trade policies" (p.6). These factors are related to infrastructure, security and stability and also governance and differ from one country to another. In certain countries, the challenges are well-known, and the data is not shocking but alarming. At least in two of the countries in which this survey was conducted ( Libya and Iraq,), there has been a decade-long armed conflict that fuels food insecurity and vice versa.  
On the other hand, we need to understand to some extent the challenges highlighted by food insecurity in each country and their own socio-economic contexts separately. These challenges differ or exist to varying degrees. For example, food insecurity highlights gender inequality challenges in Iraq and Jordan but also highlights urban-rural divides in Lebanon and Tunisia and environmental issues in Egypt. 
Food insecurity is an existential threat to many populations in the region. It needs to be addressed, not only because of how pervasive it is but also because it is interconnected with other challenges and risks. "The lived experience of food insecurity is more encompassing than any facts or figures can capture, and its long-lasting consequences cannot easily be enumerated or disentangled from other aspects of life" (p25).