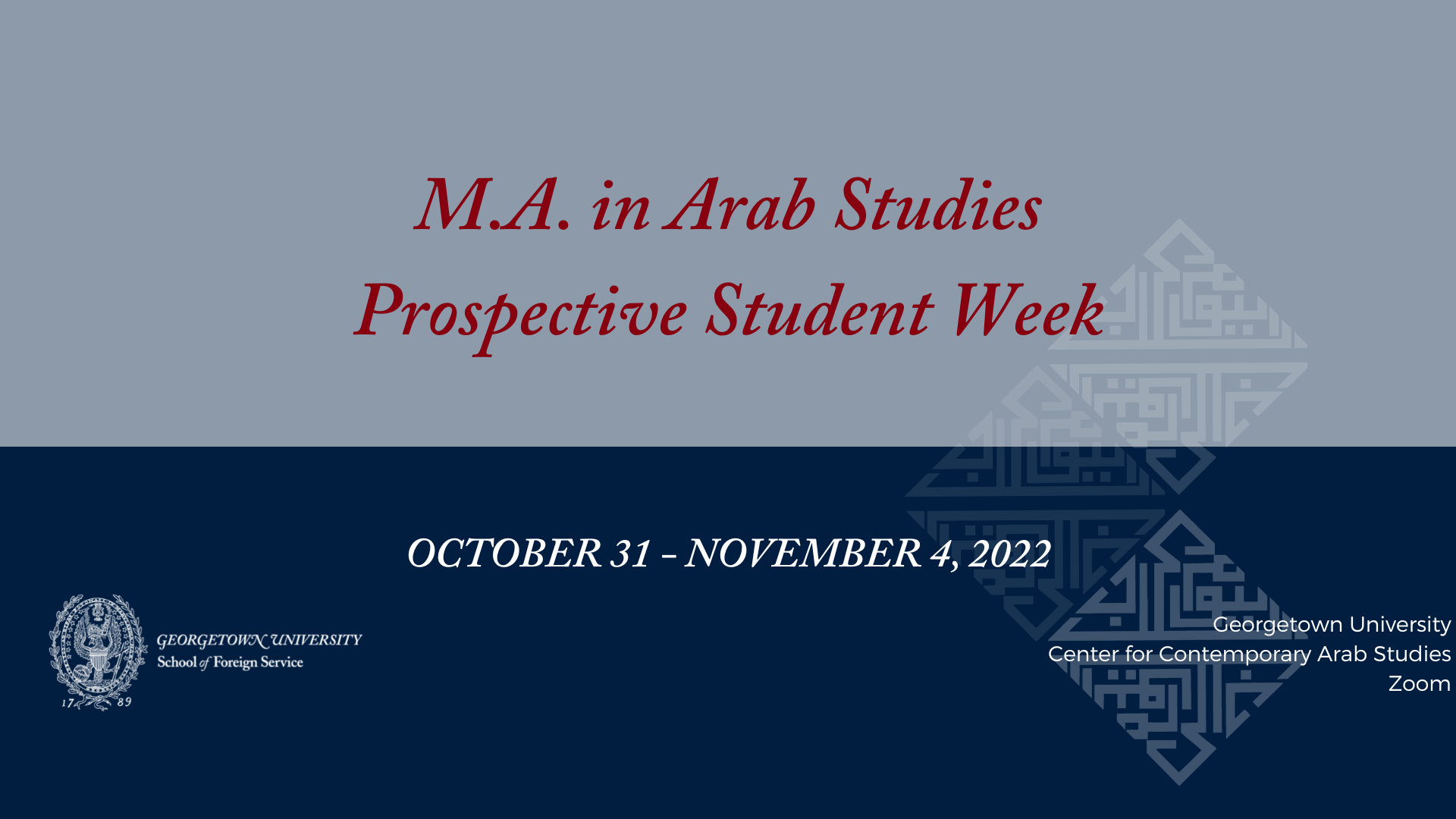 Join us for an exciting week of events at CCAS to learn about becoming a part of the MA in Arab Studies program!
You will have the opportunity to observe classes, meet the faculty and staff, and have your questions about the application process and CCAS answered. Please select the various opportunities we have below. All sessions are in Eastern Time (Washington, DC).
For event-related questions, please email Coco Tait at Coco.Tait@georgetown.edu.
Idealist DC – Registration
Monday, October 31st, 5:00-8:00pm | Walter E. Washington Convention Center
Meet with an admissions representative from the MAAS program at Georgetown's School of Foreign Service table. Attendance is free. Hosted by Idealist.
Ghadeer Malek: I Exist – Registration
Tuesday, November 1, 6:30pm | Virtual CCAS public event hosted in collaboration with the American University.
Conversation with Current student Nisrine Hilizah on Arab Barometer report – Registration
Thursday, November 3rd, 1:30pm-2:30pm ET | Virtual
Join current students for an informal conversation with MAAS student Nisrine Hilizah (MAAS '23) about her recently published Arab Barometer report, "Racial Discrimination and Anti-Blackness in the Middle East and North Africa."
MA in Arab Studies Information Session
Friday, November 4th, 12:00-1:00pm ET (Virtual) Registration

Hear from CCAS faculty and current students about what makes our program unique and exciting. We will discuss the program's academic requirements, admissions process, and funding, as well as some of the opportunities available to our students and alumni.
Note the time change above if previous flyers brought you here. 
Sit in on a MAAS Class
Prospective students are welcome to sit in on a MAAS class during MAAS Prospective Student Week. Please email maas@georgetown.edu to make arrangements.
Connect with a Professor or Current Student
If you would like to arrange a meeting with a CCAS faculty member or current MAAS student, please email maas@georgetown.edu and our admissions team will help you make arrangements.