A Note from CCAS Director Joseph Sassoon
Spring/Summer 2021 CCAS Newsmagazine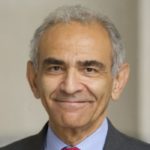 We have just ended an academic year of teaching virtually—from day one until the last day of the semester. This was the first time in our history that this has taken place. However, as things brightened and as COVID-19 cases fell, with more and more being vaccinated, we were able to gather recently for a reception on campus to honor the graduates of the MAAS class of 2021. It was wonderful to see students, staff, and faculty in person after a year of Zoom. We also hosted a live-streamed, virtual graduation for students and families who could not attend in person.
As difficult as the academic year was for all (students, staff and faculty), we made the most of the virtual environment. Last summer, faculty collectively and individually prepared for the school year by pursuing professional development to improve pedagogical tools for online teaching. Over the year they invited experts from around the globe to join their classes via Zoom. Students rose to the challenge as well, demonstrating resilience and the high level of engagement our MAAS students are known for. Staff stepped in to take on new roles and assist other departments in the School of Foreign Service. Thanks to their hard work and dedication, students and faculty were able to focus on the academic side.
We continued to engage in scholarship and respond, through our public programming, to critical events happening globally. In late August 2020, we hosted an online event with ADF Fellow Ziad Abu-Rish to provide context on the devastating Beirut port explosion that happened earlier that month. In March, we hosted a panel of scholars for the event "100 Years of Lebanon" to coincide with Lebanon's centennial celebrations and to discuss how the country's history can deepen our understanding of contemporary events there. We explore those themes further throughout this issue of the magazine. We hosted, in collaboration with the African Studies department, six events as part of the "Race and Racism in Africa and the Middle East" series, and we are part of the year-long series "10 Years On: Mass Protests and Uprisings in the Arab World" in partnership with the Arab Studies Institute and a consortium of top Middle East studies programs across the country and the world. In all, we hosted 24 online public events this year with a total of 1,400 attendees.
Our outreach activities for educators continued unabated. In collaboration with Georgetown's Alwaleed bin Talal Center for Muslim-Christian Understanding, we hosted 20 virtual education outreach events, with a total attendance of more than 2,100 teachers and members of the public. These events included conferences, webinars, and professional development workshops. We look forward to hosting the 2021 Summer Teacher Institute, "The Arab Legacy in the Iberian Peninsula and Latin America," which will take place in early August.
Georgetown University has announced that it will return to in-person teaching in the fall, so I hope we will all be back and can celebrate the achievements of our faculty and students together. I look forward to seeing as many of you as possible in the near future.