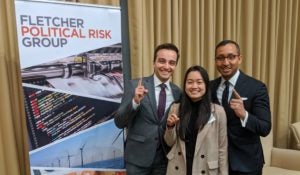 Congratulations to first year MAAS student Azim Wazeer, along with Tra Hoang (MASIA '20), and Haris Fontaine (MSFS '20), who came in first place in the 2020 Fletcher Political Risk Student Case Competition!  The competition, which challenges students to apply their knowledge of geopolitics and business strategy to the world of political risk consulting, was hosted as part of the Fletcher Political Risk Conference at Tufts University.
In its third year, the competition asks student teams to identify a contemporary political risk facing a multinational business. The teams then conduct research with mentorship from professional political risk analysts and write a detailed case report, including a scenario analysis and a risk mitigation strategy. This year's prompt was to think about an at-risk U.S.-based company with significant business activity in Vietnam. Around 30 teams entered the competition, with three selected as finalists to present their projects at the Fletcher Political Risk Conference before a panel of judges and interested audience members.
Azim, Tra, and Haris met during the fall semester the School of Foreign Service graduate class "Political Risk Assessment," taught by Dr. Mary Cline, and decided to form a team and participate in the competition. Their presentation,"General Electric in Vietnam: Political Risk Report," can be viewed here beginning at the 35:00 mark.