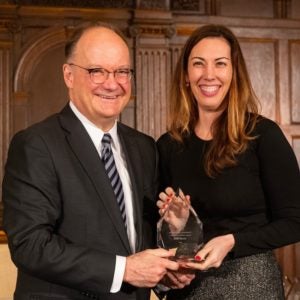 The Center for Contemporary Arab Studies would like to congratulate Assistant Director of Academic Programs Kelli Harris, who was a recipient of the 2020 President's Excellence Award for Staff at Georgetown University. Ms. Harris manages the academic programs at CCAS, including the Master of Arts in Arab Studies, undergraduate and graduate certificates, FLAS fellowships and other Title VI programming, and post-doctoral fellowships. She has worked at the Center since 2009 and in her current position since 2014.
The President' Excellence Award seeks to recognize distinguished staff members at Georgetown who have gone above and beyond in their work and have made significant contributions to the University that have enhanced the quality of life on our campuses in substantial and lasting ways. In the words of Georgetown University President John J. DeGioia, the honorees "bring to our University an exceptional level of commitment that helps to deepen and strengthen the ethos of care, compassion, excellence, and engagement that characterizes our way of life here at Georgetown."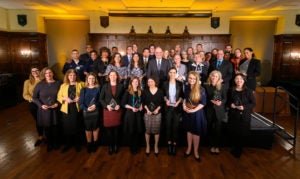 Ms. Harris has been honored for her tireless dedication to students, her leadership within the School of Foreign Service, and her creativity and innovation in building partnerships beyond the university. Among Ms. Harris' achievements cited in the nomination were her successful efforts in applying for U.S. Department of Education Title VI National Resource Center (NRC) and Foreign Language and Area Studies (FLAS) Fellowship funding. The application required Ms. Harris, alongside CCAS Director Rochelle Davis, to compile comprehensive data on all educational activities, research, and outreach related to the Middle East and North Africa conducted by the University as a whole. As a result of their efforts, CCAS was awarded two four-year grants that support area studies and language classes, library acquisitions, public programming, and scholarships for students to study modern Middle Eastern languages. Ms. Harris also led efforts to establish a partnership between the U.S. Army's Foreign Area Officer (FAO) program and the SFS graduate programs. This new agreement enables FAO officers to pursue graduate degrees at SFS, beginning their studies on campus and finishing during their in-region training.
"Kelli is a dedicated staff member who goes above and beyond for students in our program," said CCAS Academic Director Fida Adely. "She also pushes us all to think about how better to meet the needs of our student body and to meet our pedagogical goals as a program. The President's Award is a very well deserved acknowledgment!"
Please join CCAS in congratulating Ms. Harris on this well-deserved honor!