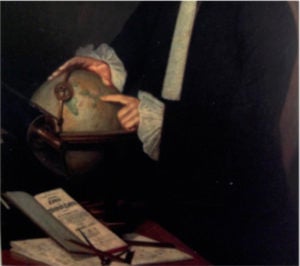 August 5-9, 2019, 9:00am – 3:00pm, Center for Contemporary Arab Studies, Georgetown University, ICC #141
The Summer Teacher Institute 2019 will explore the Enlightenment as a global phenomenon, both in its origins and impact. As many historians have noted, the view of the Enlightenment as a European thought movement is inadequate and ignores both the effects of intellectual exchanges within and beyond Europe, including and after the Renaissance and Scientific Revolution.
What we call Enlightenment thought emerged during the first global era when Europeans were exposed to intellectual stimuli and challenges in Asia, Africa, and the Americas. Not only mercantile but also scholarly exchanges characterized this period and opened Europeans' horizons on linguistic, philosophical, historical, literary, and religious traditions to which they had not been previously exposed. Merchants, missionaries and administrative officials of the trading companies encountered social settings in which people of multiple ethnicities and religions mingled and engaged in business and social engagement—unlike Europe, which was still in the throes of religious conflicts between Catholics and Protestants, and where Jews and Muslims found only limited and contingent tolerance. As ties with Asia deepened, exposure to unfamiliar legal and administrative models of governance confronted Europeans and stimulated deeper learning. Artistic traditions and a host of new products, technologies, and styles flowed into Europe, stimulating new import substitution industries and innovations.
STI 2019 will explore both the global origins and the enduring global effects of enlightenment ideas and exchanges. The former were obscured by the rapid industrial and imperial advancement of Europe, the ideas of progress and civilizational decline, and the latter were distorted by the association of enlightenment ideas with modernity in post-colonial societies.
The scholars who will share their knowledge during the summer institute have explored connected histories across Afro-Eurasian spaces, through their knowledge of multiple languages and creative work in archives across the world. On the other hand, there is the issue of the impact of the Enlightenment as a global phenomenon, which includes the participation of intellectuals in the now-colonized lands of Asia, Africa and the Americas in enlightenment ideas.
Among the themes we will pursue during the week-long institute are:
Europeans' absorption of global knowledge
Scientific knowledge and travel
Human nature and ideas of race
A cosmopolitan republic of letters
Literary, artistic, and philosophical cross-pollination
Religious exploration
Consumption of things and ideas
Lunch will be provided daily, and attendees will receive books and other resources. Register here. We will continue to provide a limited number of travel grants. Apply for a travel grant here.
This program is made possible by a Title VI grant from the United States Department of Education, which is funding a National Resource Center of the Middle East at Georgetown University, and by support from the Center for Contemporary Arab Studies at Georgetown.
Image credit: Detail from a 1790 portrait Rabbi Raphael HaLevi of Hannover appearing as typical 18th-century European scholar. Hannover was a German mathematician and man of science and was one of the early figures of the Haskalah – the Jewish Enlightenment movement that emerged in Germany as Jewish intellectuals began engaging in Enlightenment texts and ideas. From Feiner, Shmuel, and Natalie Naimark-Goldberg. "The Early Maskilim." In Cultural Revolution in Berlin, 14. Oxford: Bodleian Library, 2011.